March 09, 2012 -
Joe Fortenbaugh
Blackmon turns on the jets at Pro Day
Oklahoma State wide receiver Justin Blackmon was criticized by many after turning down the opportunity to run the 40-yard-dash at last month's NFL Combine. NFL draft analyst Mike Mayock even went so far as to plead with the 22-year-old to step up and show the world what he could do.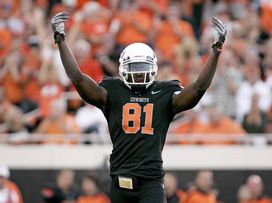 A solid Pro Day performance should solidify Blackmon as a top-7 selection.
But after Baylor wideout Kendall Wright turned in a shockingly disappointing 4.61 in Indianapolis, you couldn't help but think that Blackmon may have made the right decision by waiting to run on the fast track at Oklahoma State.
It's now been two weeks since the Combine and nobody is talking about Blackmon's decision to opt out of running. That's because the future first-rounder stepped to the plate in Stillwater on Friday at Oklahoma State's Pro Day and came up big.
Per ESPN's Josina Anderson who is on the scene in Stillwater, Blackmon's first 40-yard-dash attempt was clocked in the 4.45-4.50 range, while his second attempt came in faster in the 4.41-4.46 range.
Blackmon's decision not to run at the Combine forced many draft analysts to drop him down their boards, so it will be interesting to see how many people move him back up after Friday's workout.
Hit me up on Twitter: @JoeFortenbaugh