August 09, 2011 -
Joe Fortenbaugh
Blaine Gabbert will start on Thursday
David Garrard better not take too long to recover from his current back injury or he may find himself without a starting job come Week 1.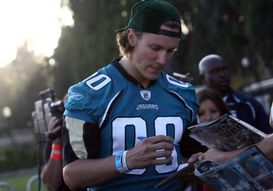 Gabbert has an opportunity to impress the Jaguars coaching staff this Thursday.
While it's still very early, rookie quarterback Blaine Gabbert—who the Jaguars traded up six spots in the first round to select—has been named the starter for Thursday night's preseason game against the New England Patriots, head coach Jack Del Rio announced on Tuesday.
Gabbert gets the nod after the 33-year-old Garrard injured his back during practice last Thursday.
While the rookie from Missouri is no doubt a long way from being ready to successfully run the Jacksonville offense on a regular basis, the more time he gets under center with Garrard out, the more of an opportunity he has to impress the Jaguars coaching staff.
Hit me up on Twitter: @JoeFortenbaugh