May 17, 2011 -
Joe Fortenbaugh
Bombs Away! 5 days with the new TaylorMade R11
If you're at all like me, you know there's no better feeling on the golf course then smashing a thundering drive right down the center of the fairway. Watching that little, ridiculously overpriced white ball climb slowly higher into the clear, blue sky before rocketing back down to Earth offers up that rare, five-second window on the links where many golfers tell themselves, "this game isn't that tough."
Call it a testosterone overload or lack of appreciation for the short game if you want to, but finding the sweet spot on a well-made driver jump-starts a tingling sensation that runs up and down my spine right up until I shank the always-daunting approach shot.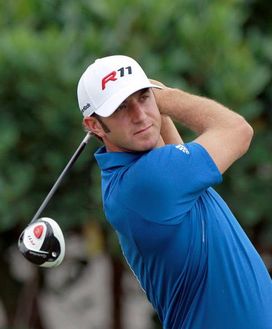 Dustin Johnson hits the R11 and he's made over $5 million on the PGA Tour during his career.
Hey, they serve booze on the golf course for a reason.
For those of you who have logged enough time on the course to put a strain on your marriage, you have no doubt learned that when it comes to the tee box, there are drivers and then there are drivers.
I can report back to you with sunburned confidence that the new TaylorMade R11 most certainly falls under the classification of the latter.
The good folks at TaylorMade—who I'm quickly beginning to realize may just have the greatest jobs on the planet—were gracious enough to send me a brand-new R11 to test drive on my annual post-NFL draft golf trip to Myrtle Beach, South Carolina, which posed a bit of a quandary for a 14-handicapper like myself.
You see, I've been hitting the TaylorMade Burner off the tee for the last three years with exceptional results, and with golf being a fickle game by nature, every golfer knows that you don't switch to a new driver or putter when you're running hot with the old one.
It's like talking to your pitcher during a no-hitter or pounding shots of tequila on an empty stomach.
You just don't do it.
But I decided to roll the dice and wound up making the switch to the most talked-about golf club of the 2011 season.
Here is what I learned…
Club specs: 9 degrees with Fukikura Blur 60 graphite shaft (regular).
Where to buy: Local golf retailers or at TaylorMadeGolf.com
Cost: $399.99
Before you even think about taking the R11 onto the course, head to the range and figure out what settings work best for you. The beauty of this driver is that you're not paying $399.99 for one golf club, you're paying $399.99 for 48. The R11 offers you the uncanny ability to adjust the loft, face angle and flight path with just a few turns of a wrench, which means curing that nasty slice just went from an appointment with a psychiatrist to a quick, on-course adjustment. Time is money, people.
Customizing the R11 to fit your swing may seem like a time-consuming challenge, but trust me, it isn't. I had this beast right where I wanted it after 12 shots on the range.
The ball jumps off the club face like nothing I've ever felt before in my life. Three years ago when I decided on the Burner, I tested four different drivers before pulling the trigger. All of them had some nice pop, but the Burner was a cut above. The R11 is on another planet. It feels a bit strange at first, but then you realize your drives are going 15-30 yards longer.
There's nothing strange about more distance.
The white club head is 440cc's of balls that is comprised of one part intimidation and one part style. I personally guarantee that heads will turn when you pull the R11 out of your bag for the first time.
Editor's Note: There is actually a scientific reason for the white club head. Per TaylorMade's website, "The contrast between the white crown and black clubface makes it easy to align the R11 accurately at address. The matte white finish eliminates hot spots and glare to promote improved focus. The white head looks larger to promote more confidence and a fast, free swing speed."
And all this time I thought the R11 was white because it looked badass. No wonder my short game is in the crapper.
Accuracy: I had very little trouble hitting fairways with the R11, despite a natural cut that forces me to aim a bit left before teeing off. In five rounds, the club proved to be very consistent with almost no miss hits.
Distance: I couldn't get optimum contact at 9 degrees, so a quick adjustment upwards made a world of difference. 250-260 yard drives with the Burner turned into 260-280 yard drives with the R11.
Final Conclusion: I really tried to find at least one negative sentiment to express during five days of debauchery in South Carolina, but this club lived up to the hype and never failed to meet expectations. It's a pricey piece of equipment, but the R11's rare ability to make quick adjustments will pay dividends to inconsistent golfers.
If you want the truth, after shooting multiple rounds in the low 80s prior to arriving in Myrtle Beach, my game went to hell on the second hole during the first round of the trip. I couldn't hit an iron to save my life and my short game wasn't even equipped to tackle a local miniature golf course.
But throughout that entire five-day disaster of a golf trip, my R11 never waivered.
For more information about TaylorMade golf clubs, CLICK HERE.
Hit me up on Twitter: @JoeFortenbaugh
Follow TaylorMade on Twitter: @TaylorMadeGC