December 18, 2013 -
Joe Fortenbaugh
Bowl game betting primer: Volume 1
There are two key factors we want to monitor closely entering bowl season. The first has to do with motivation, as we want to identify both the teams that are excited to be making a bowl appearance and the schools that, for one reason or another, have no interest or desire in where the postseason draw led them. The second factor involves streaking, in which we want to find the teams entering mid-December on either a hot or cold streak.
This is the first installment of the National Football Post's bowl game betting primer, which covers postseason play up until Christmas. We'll be back next week to break down the second wave of games.
Final week: 1-2
Season: 48-32-1 (.600)
CLICK HERE to check out all of the current lines.
Taking a pass on: Washington State vs. Colorado State and East Carolina vs. Ohio
ROYAL PURPLE LAS VEGAS BOWL (Las Vegas, Nevada)
#20 Fresno State Bulldogs (11-1, 4-1 road) vs. #25 USC Trojans (9-4, 4-2 road)
When: Saturday, 3:30pm ET
Open: USC -4.5
Current: USC -6.5
Fresno State in 2013: 5-7 ATS, 6-6 to the OVER
USC in 2013: 6-7 ATS, 9-4 to the UNDER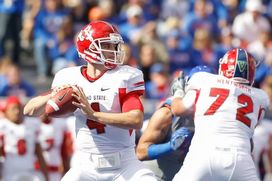 Saturday marks star quarterback Derek Carr's last chance to impress NFL scouts with his play on the gridiron.
Analysis: Fresno State had every reason imaginable to throw in the towel after falling 62-52 at San Jose State on November 29, a loss that cost the Bulldogs a shot at playing in a BCS bowl game. But Fresno came back to jump up 24-7 on Utah State the following week in the season finale and held on for a 24-17 win and cover. USC is one of the most emotionally unstable programs in the country. The Trojans played far below their potential under former head coach Lane Kiffin, going 3-2 and getting blown out 62-41 at Arizona State before Monte's son was sent packing. Former Mississippi boss Ed Orgeron stepped in for Kiffin, rallied the troops and rattled off a 6-2 record to close out the year. But the powers at Troy opted to bypass Orgeron in favor of Washington head coach Steve Sarkisian, prompting Eddie O to turn in his papers. The players weren't happy with the decision, which is why we believe they view this bowl game as nothing more than a December vacation in Las Vegas. Bowl games are all about identifying the teams with motivation. Fresno State has it, USC doesn't.
Notable Trends: Fresno State is 16-6 ATS over their last 22 games after allowing less than 100 yards rushing in the previous game, while USC is 1-7 ATS over their last eight non-conference games.
Pick: Fresno State (+7 if it gets there, +6.5 if it doesn't)
FAMOUS IDAHO POTATO BOWL (Boise, Idaho)
Buffalo Bulls (8-4, 3-3 road) vs. San Diego State Aztecs (7-5, 4-2 road)
When: Saturday, 5:30pm ET
Open: Buffalo -1.5
Current: PK
Buffalo in 2013: 8-4 ATS, 8-4 to the OVER
San Diego State in 2013: 6-6 ATS, 6-6 to the OVER
Analysis: San Diego State has the edge when it comes to experience, as this will mark the fourth straight season in which the Aztecs have qualified for postseason play. In addition, SDSU traveled to this same venue in 2012 to play the Boise State Broncos, who they defeated 21-19. As for Buffalo, this marks just the second time in school history that the Bulls have earned the right to play in a bowl game (won 38-20 vs. UConn on January 3, 2009). In regards to quality of competition in 2013, the Aztecs took Oregon State (lost 34-30) and Fresno State (lost 35-28) down to the wire and defeated Boise State 34-31 on November 23. Buffalo lost 40-20 at Ohio State, 70-13 at Baylor, 51-41 at Toledo and 24-7 vs. Bowling Green, giving the Bulls exactly zero quality wins on the season.
Notable Trends: Buffalo is 5-11 ATS over their last 16 non-conference games, while San Diego State is 5-2 ATS over their last seven games following an ATS loss.
Pick: San Diego State (PK)
R+L CARRIERS NEW ORLEANS BOWL (New Orleans, Louisiana)
Tulane Green Wave (7-5, 2-4 road) vs. UL Lafayette Ragin' Cajuns (8-4, 4-3 road)
When: Saturday, 9:00pm ET
Open: PK
Current: Tulane -2
Tulane in 2013: 9-3 ATS, 7-4-1 to the UNDER
UL Lafayette in 2013: 4-8 ATS, 7-5 to the OVER
Analysis: This is Tulane's first bowl appearance since 2002, so the Green Wave should have plenty of motivation to knock-off an in-state rival in UL Lafayette. The key here will be the health of Ragin' Cajuns starting quarterback Terrance Broadway, who suffered a broken right arm on November 30 against UL-Monroe. Entering that game, Louisiana had won eight straight contests and led Monroe 21-14 at halftime before Broadway got hurt and the wheels came off the bus. The Cajuns ended up losing 31-28 and then went on to get shellacked 30-8 at South Alabama in the season finale. The Green Wave have experienced quite an impressive turnaround this season, going 7-5 (9-3 ATS) with a +12 turnover differential after a 2-10 campaign last year that featured a -9 turnover differential. Note that Louisiana has failed to cover the number in five straight outings while Tulane is 7-1 ATS over their last eight games overall.
Notable Trends: Tulane is 11-1 ATS over their last 12 games played on turf, while UL Lafayette is 1-4 ATS over their last five non-conference games.
Pick: Tulane (-2)
SHERATON HAWAII BOWL (Honolulu, Hawaii)
Boise State Broncos (8-4, 2-4 road) vs. Oregon State Beavers (6-6, 4-2 road)
When: Tuesday, 8:00pm ET
Open: Oregon State -1.5
Current: Oregon State -3
Boise State in 2013: 6-6 ATS, 7-5 to the OVER
Oregon State in 2013: 6-6 ATS, 7-5 to the OVER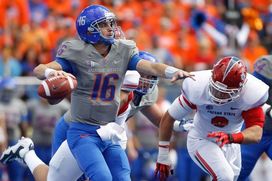 Quarterback Joe Southwick returns to action for the Broncos next Tuesday in Hawaii.
Analysis: The knock against Boise State is that the Broncos are in big trouble without head coach Chris Petersen, who recently bolted town to take the top job at Washington. But note that defensive coordinator Bob Gregory—who will be coaching the Broncos in Hawaii—has been involved in 15 bowl games during his career, including each of Boise State's last three postseason victories. The Broncos are 4-1 ATS over their last five bowl games and get senior quarterback Joe Southwick back for Tuesday's game. Meanwhile, Oregon State heads to Hawaii riding a five-game losing streak (2-3 ATS) with a 1-3-1 ATS record against Boise State over the last five meetings between these two schools. We like Boise State to win and cover in this spot.
Notable Trends: Boise State is 6-1 ATS over their last seven neutral site games, while Oregon State is 0-4 ATS over their last four non-conference games.
Pick: Bois e State (looking for +3.5, will play +3)
Hit me up on Twitter: @JoeFortenbaugh