March 14, 2012 -
Joe Fortenbaugh
Brandon Lloyd will visit the 49ers
If the New England Patriots plan to make that widely speculated move to sign free agent wide receiver Brandon Lloyd, they better hope the 49ers don't beat them to the punch.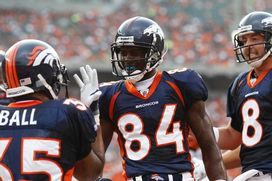 Lloyd burst onto the scene in Denver during the 2010 season before getting traded to St. Louis last October.
Per Adam Schefter of ESPN, the 49ers are expected to meet with Lloyd in the near future, possibly on Wednesday.
The 30-year-old wideout spent the first three years of his career in San Francisco producing average numbers before he came out of nowhere and caught fire with the Broncos during the 2010 season. In 16 games that year, Lloyd caught 77 passes for 1,448 yards and 11 touchdowns.
Despite the increase in production, Denver shipped Lloyd to St. Louis for a sixth-round pick this past October, where Lloyd played out his contract with quarterback Sam Bradford before hitting the open market on Tuesday.
With Randy Moss already in the mix, the 49ers could suddenly have quite the talented receiving unit should they be able to lockdown Floyd to a contract.
Hit me up on Twitter: @JoeFortenbaugh