March 13, 2012 -
Joe Fortenbaugh
Breaking: Bears trade for Brandon Marshall
In need of a wide receiver for franchise quarterback Jay Cutler and rumored to be in the market for a playmaker like Vincent Jackson, the Bears pulled off the first big surprise of 2012 league year.
Jay Glazer of FoxSports.com is reporting that the Miami Dolphins have traded Pro Bowl wide receiver Brandon Marshall to the Chicago Bears in exchange for two third-round draft picks (2012 and 2013).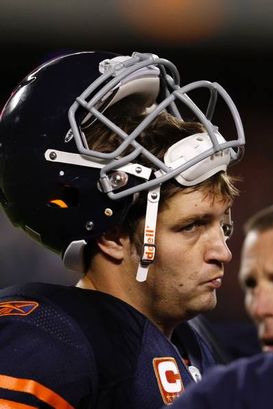 ICONPerk up, Jay. Brandon Marshall is coming to town.
The move reunites Marshall with former Broncos teammate Jay Cutler, whom he was extremely productive with during three seasons in Denver. In fact, many would argue that the wide receiver's best NFL seasons came with Cutler at the controls in 2007 and 2008, when Marshall recorded 206 receptions for 2,590 yards and 13 touchdowns.
Upon initial inspection, the move doesn't look all that great for Miami, as the Dolphins gave up two second-round picks in 2010 to acquire Marshall from the Broncos, only to turn around and ship him to Chicago two years later for two third-round selections. In addition, sending Marshall to the Bears now leaves the Dolphins with a glaring hole at the wide receiver position.
Is it possible Miami is gearing up to land both Peyton Manning and wide receiver Reggie Wayne?
Now that the Bears have finally landed a legitimate No. 1 receiver to pair with Cutler, the team can turn its attention to signing free agent defensive end Mario Williams.
It's safe to say Chicago is already off to a hell of a start.
Hit me up on Twitter: @JoeFortenbaugh