December 12, 2011 -
Barry Dorey
Broncos move to 22-1 to win Super Bowl at BetOnline.com
It may be hard to remember, but it was only nine weeks ago that the Denver Broncos were coming off a 29-24 home loss to the San Diego Chargers. Kyle Orton was the starting quarterback, the franchise had a record of 1-4 and no team in the NFL had worse odds to win the Super Bowl (150-1).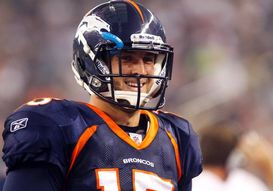 What can we say that hasn't already been said?
Eight games, seven wins and one quarterback named Tim Tebow later and the Denver Broncos now find themselves on top of the AFC West and posted at 22-1 to hoist the Vince Lombardi Trophy this season, per Dave Mason and our friends at BetOnline.com.
As it currently stands, only seven teams have more favorable odds than Denver to win this year's Super Bowl.
As for the rest of the league (believe it or not, a universe does exist outside of TebowMania), the Bears have plummeted to 100-1 after their third consecutive loss, the Saints still sit at 5-1 and the Giants have climbed back into the picture at 25-1 after Sunday night's thrilling come-from-behind win at Dallas.
Here's the rundown:
Hit me up on Twitter: @JoeFortenbaugh