January 20, 2014 -
Joe Fortenbaugh
Broncos open as Super Bowl favorite, early money backs Manning
At approximately the same time that Seattle Seahawks cornerback Richard Sherman was laying down the groundwork for what will no doubt serve as Monday's hot-button issue, bookmakers in Las Vegas as well as offshore were releasing their opening point spreads and totals for Super Bowl XLVIII.
At the conclusion of championship weekend—a nine-hour stretch which saw the Denver Broncos defeat the New England Patriots 26-16 and Seattle Seahawks emerge victorious over divisional rival San Francisco 23-17—this year's Super Bowl opened up one of three ways: With Seattle as a very small favorite (-1), as a pick 'em or with the Broncos as a small favorite (-1).
But those numbers didn't last long. Almost as quickly as the game hit the board, money came pouring in on Peyton Manning and the Broncos, forcing adjustments all across the globe.
"Heavy action on Denver at pick (93% of $ in 15 minutes) and Denver -1 (89% of $ in 15 minutes), so moved to Broncos -3," said Mike Perry of offshore shop Sportsbook.ag in an email release Sunday evening.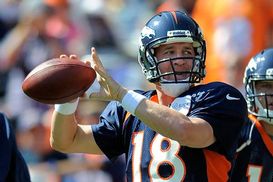 Manning has opened as a favorite in each of his three trips to the Super Bowl.
Sports books around Las Vegas experienced similar results, with the line currently sitting at any of the following options: Denver -1 (LVH), Denver -1.5 (Caesars, Cantor Gaming), Denver -2 (Wynn, William Hill) and Denver -2.5 (South Point, Stations, Coasts).
The offshore market is currently offering the same range of prices.
But here's where things get interesting. Flash back to one week ago when Vegas was offering Super Bowl look-ahead lines and ask yourself if Sunday's action warranted such a drastic shift.
Just a few days ago, the LVH was offering a Super Bowl point spread of NFC -3 (even) with a total of 48. William Hill sports books released a look-ahead line that featured Denver as a one-point favorite over Seattle, but that spread was immediately bet to Seattle -1, indicating a strong showing of Seahawks money.
So you're telling me that Denver's win over New England was so impressive it was worthy of a 3-4 point adjustment following Seattle's victory over the hottest team in the league?
I'm not buying it. Which is why I'll be bird-dogging sports books this week looking for that +3 to hit the board.
As for the total, the over/under for Super Bowl XLVIII opened anywhere from 47 to 48.5, with most books offering 48 at the moment. Take note that the New Jersey weather is expected to play a role in this year's title game.
Hit me up on Twitter: @JoeFortenbaugh