July 26, 2011 -
Barry Dorey
Broncos to cut ties with Buckhalter
Whether or not the Broncos are clearing a roster spot for free agent running back DeAngelo Williams, the bottom line on this story remains the same: Correll Buckhalter is finished in Denver.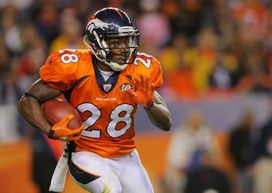 After 7 NFL seasons, Correll Buckhalter finds himself without a team.
While NFL teams can't officially cut players until Thursday, FOX 31 in Denver reported Monday night that the Broncos have informed Buckhalter they plan to release him. The seven-year veteran rushed for 789 yards and three touchdowns in two seasons with the team.
Soon to be third-year running back Knowshon Moreno is currently listed as the starter on the Denver depth chart, but the Broncos have made it known they'll be looking for another running back to add to the roster during free agency. Many experts believe a John Fox-DeAngelo Williams reunion could be in the works.
With the possible exception of Ahmad Bradshaw, Williams is considered by some to be the top free agent running back available this summer.
Think DeAngelo Williams is headed to Denver? Weigh in with your thoughts in the NFP Forums!
Hit me up on Twitter: @JoeFortenbaugh