September 17, 2012 -
Joe Fortenbaugh
Broncos-Falcons betting primer
As our friends at WagerMinds.com pointed out via twitter this morning, Peyton Manning is 9-0-1 against the spread in his career as a three-point underdog. Will the Falcons bust the trend for the first time in Manning's NFL tenure, or will the savvy veteran quarterback find a way to push that mark to 10-0-1? Let's take a look:
CLICK HERE to check out the current lines.
DENVER BRONCOS (1-0, 0-0 road) at ATLANTA FALCONS (1-0, 0-0 home)
Time: 8:35pm ET, ESPN
Open: Atlanta -3/49
Current: Atlanta -3/50.5
Current betting percentages: 61% on Denver, 76% on the OVER
Weather: Indoors
TRENDS
1. The Broncos are 1-4 ATS in their last five Monday night games.
2. The Broncos are 5-2 ATS in their last seven road games.
3. The Falcons are 5-1 ATS in their last six games played in Week 2.
4. The Falcons are 0-5 ATS in their last five games against teams with a winning record.
5. The OVER is 5-1 in the Broncos last six games overall.
6. The OVER is 5-1 in the Falcons last six games overall.
INJURY REPORT
DENVER: OUT: G Chris Kuper (forearm), QUESTIONABLE: C Philip Blake (thumb), CB Chris Harris (ankle), PROBABLE: C Manuel Ramirez (elbow), WR Demaryius Thomas (shoulder).
ATLANTA: QUESTIONABLE: T Tyson Clabo (hip), LB Sean Weatherspoon (hamstring), PROBABLE: LB Robert James (knee), WR Roddy White (groin)
ANALYSIS
We could share our analysis with you, but the experts listed below did such an excellent job this week that we'll pass it off to them.
FROM THE EXPERTS
Mike Colbert, Race & Sportsbook Director, Cantor Gaming: "We're getting very good two-way action on tonight's game. We've received a bunch of moneyline bets on the Broncos, but the spread bets are more so on Atlanta. I like the Falcons and think they win by ten tonight."
Vegas-Runner, professional handicapper, Pregame.com: "It's no secret that the betting public will be one-sided on the OVER, but from sources I've talked to who move steam, there was a buy-order sent out on the UNDER from a respected outfit and other sharps are piggy-backing the move. That should provide less exposure for the books, but not enough balance to totally eliminate it and let them sweep up the vig like they should do with the side on the game.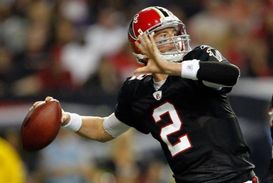 Beating Matt Ryan on his home turf is no easy task.
Oddsmakers did a good job of putting out the key number of 3 and not moving off it to allow any of us to get the best of it. Sure, it opened as high as -4 and -3.5 offshore, but that price didn't last long as the pros made sure to get out ahead of the market. I don't consider it a "true steam" play on Broncos.
Bottom line, you better have plenty of reasons if you plan on fading the Falcons at home. Matt Ryan is 26-4 SU in his 30 regular season home contests, meaning this team doesn't lose many in the dome with him under center. It'll be interesting to see if Atlanta can get their running game going after rushing for only 84 yards last week and I do expect Denver will come at Atlanta on the ground after the Falcons defense gave up 152 yards rushing in Week 1 (4.5 YPC)."
FORTENBAUGH'S PICK: Falcons (-3)
Follow Vegas-Runner on Twitter: @VegasRunner
Hit me up on Twitter: @JoeFortenbaugh