March 12, 2013 -
Joe Fortenbaugh
Browns look like the favorites to land Kruger
The Cleveland Browns haven't notched more than five wins in a season since 2007. But with a new front office at the controls and plenty of cap room at the team's disposal, it looks as if the Browns are ready to turn the page on their recent shortcomings by arming up for the 2013 campaign.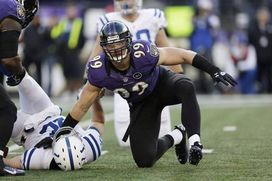 Kruger's monster postseason is going to result in a hefty pay raise.
The first step in that process appears to be locking down an agreement with free agent outside linebacker Paul Kruger.
Per Aaron Wilson of the Baltimore Sun, the Browns "are closing in" on a deal for the four-year veteran out of Utah. While nothing official can shake down until the new league year begins at 4:00pm EST Tuesday, that apparently hasn't stopped the Browns from looking to get a head start on the free agent frenzy.
The 27-year-old Kruger started just six games in 2012, but recorded a career-high 9.0 sacks during the regular season and then went nuclear during Baltimore's Super Bowl run, amassing another 4.5 sacks in four games to go along with his 14 tackles, one forced fumble and one fumble recovery.
Kruger's reportedly drawn interest from multiple teams around the league, but the Browns appear to have emerged as the frontrunners to close the deal.
We'll see if Cleveland can finish the job come 4:00pm EST.
Hit me up on Twitter: @JoeFortenbaugh