March 19, 2013 -
Joe Fortenbaugh
Browns schedule a private workout with Geno Smith
Cleveland Browns quarterback Brandon Weeden is in a tough spot. The 29-year-old improved down the stretch in 2012, helping his team to victories in three of their final five games. But with a new front office and coaching staff in place for the 2013 season, Weeden will once again have to sell himself as the organization's quarterback of the future if he wants to remain the starter for the team that took a shot on him during the first round of last year's draft.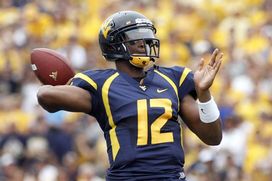 Will Geno Smith still be on the board when the Browns hit the clock at No. 6?
That could be a problem, especially if the Browns decide to pull the trigger on a new signal-caller during the first round of this year's draft.
Mark Kay Cabot of the Cleveland Plain Dealer reports that the Browns—who currently hold the sixth pick in the first round—have scheduled a private workout with West Virginia quarterback Geno Smith. The former Mountaineer standout is widely considered to be the top quarterback prospect available in this year's draft class.
The Browns are clearly performing their due diligence here, as the franchise isn't 100% solid on Weeden and could have the opportunity to land Smith with the sixth pick. And while no final determinations have been made at the moment, Cleveland is obviously intrigued enough by Smith's talent to take the process one step further by working him out in private.
Where this whole cat and mouse game gets interesting is that if the Browns do decide Smith is their guy at No. 6, they may not get the opportunity to bring him to town. The organizations holding the No. 2 (Jacksonville), No. 3 (Oakland) and No. 4 (Philadelphia) picks in April also have some level of interest in the West Virginia quarterback.
That's great news for Smith because the more suitors, the more likely he is to hear his name called quickly after the start of the draft. But that's equally concerning news for the Browns, who may not have the opportunity to select the quarterback at No. 6, assuming they are sold on the fact that Smith is their guy.
Hit me up on Twitter: @JoeFortenbaugh