April 27, 2013 -
Joe Fortenbaugh
Buccaneers trade LeGarrette Blount to New England
Former Oregon Ducks running back LeGarrette Blount turned a lot of heads as an undrafted rookie in 2010 when he came out of nowhere to rush for 1,007 yards and six touchdowns for Tampa Bay. At that moment, it looked as if the Buccaneers may have struck gold during the post-draft free agent frenzy.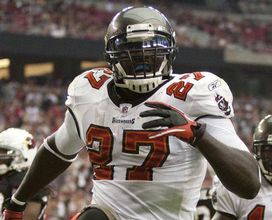 After three years in Tampa Bay, LeGarrette Blount is headed to New England.
But Blount's career has stalled out since that impressive rookie campaign. The 6-0, 247-pound running back rushed for just 781 yards in 14 games during his sophomore season and under first year head coach Greg Schiano in 2012, Blount carried the ball only 41 times. With former Boise State running back Doug Martin now handling the load in Tampa Bay, the writing was on the wall.
On Saturday, the Buccaneers traded Blount to the New England Patriots in exchange for running back/kick returner Jeff Demps and a seventh round pick, per Tom Curran of CSN New England.
The move adds both power and depth to a New England backfield that currently features Stevan Ridley, Shane Vereen, Brandon Bolden and Leon Washington.
With Ridley rushing for 1,263 yards and 12 touchdowns for the Patriots in 2012, it's unlikely that Blount will handle a big portion of the backfield pie during his time with the Pats. But his size will no doubt be taken advantage of during certain short yardage and goal line situations.
Hit me up on Twitter: @JoeFortenbaugh