August 31, 2010 -
Joe Fortenbaugh
Bucs bounce Derrick Ward
The Derrick Ward experiment in Tampa Bay has come to an end.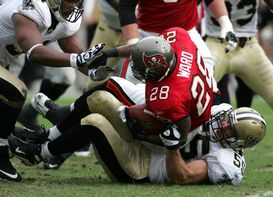 ICONDerrick Ward's short time as a Buccaneer has come to an end.
Sadly, it only cost the Buccaneers $2 million per touchdown.
PewterReport.com is reporting that the six-year veteran—who turned 30-years old on Monday—has been released by the team. Ward played just one season for the Buccaneers after signing a four-year, $17 million free agent contract in 2009.
$6 million of that contract was guaranteed, which means the one rushing touchdown Ward scored in 14 starts last season came at a ridiculous price.
The move doesn't come as a total shock. Buccaneers head coach Raheem Morris recently said that Ward had showed up to camp out of shape.
It showed, too. In three preseason appearances, Ward averaged just 2.5 yards per carry.
With Cadillac Williams as the starter, look for second-year back Kareem Huggins to step into the No. 2 role.
Hit me up on Twitter: @JoeFortenbaugh