July 10, 2010 -
Joe Fortenbaugh
Busts
Building a competitive and well-balanced fantasy team isn't just about drafting the best players. It also involves the ability to avoid selecting the guys who will sink your squad due to poor play, suspensions, injuries, etc.
One bad draft pick doesn't necessarily mean the end of the road, but it could put you a few steps behind the rest of the competition.
Let's take a look at 20 players fantasy owners should avoid this summer.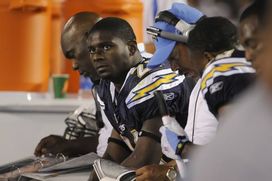 ICONThings didn't end well for L.T. in San Diego. Unfortunately, his old legs may prevent a good start in New York.
1. LaDainian Tomlinson, RB, New York Jets: New team, same bum legs. It pains us to say this because L.T. is a first-ballot fantasy Hall of Famer, but he no longer has what it takes to get the job done. Second-year back Shonn Greene will handle the majority of the workload for the Jets this season and don't be surprised if rookie dual-threat Joe McKnight (USC) works his way into the backfield rotation for New York as well. Tomlinson's touches will be limited and his yards per attempt average (YPA) has decreased in each of the past five seasons, hitting a career-low 3.3 in 2009. The name alone will force many fantasy owners to overvalue the 31-year old, so be sure to steer clear of this pitfall on draft day. Aging running backs NEVER bounce back.
2. Greg Olsen, TE, Chicago Bears: Coming off a career year that featured 60 receptions for 612 yards and eight touchdowns, many figured Olsen would be poised to join the ranks of the fantasy elite in 2010. But the Bears brought in tight end killer Mike Martz to run the Chicago offense this season, which means Olsen is a guy you want to keep off of your big board. Despite the fact that Martz will implement a pass-happy, vertical offense in the Windy City, the mastermind of "The Greatest Show on Turf" likes to keep the tight end in on passing downs to help with protection. If you want an example, check out Pro Bowler Vernon Davis, who caught only 31 passes and scored two touchdowns with Martz in 2008 before hauling in 78 passes and scoring 13 touchdowns the following year without him.
3. Every receiver on the Tampa Bay Buccaneers roster: First, the good news: Somebody has to step up and catch the football in Tampa this season. However, the bad news is that between the rookies and below-average veterans, this one is a complete crapshoot. Second-round pick Arrelious Benn (Illinois) has some potential, but it's going to take some time for him to adjust to press coverage at the NFL level. Fourth-round pick Mike Williams (Syracuse) is arguably the most talented of the bunch, but owners need to remember that this guy quit on his team last season (literally, as in, he couldn't get along with the head coach) and comes with more red flags than a USSR reunion. Veterans Michael Clayton and Reggie Brown have been complete busts so owners are advised to not even waste their time. You're better off going after a rookie like Demaryius Thomas (Denver) or Dez Bryant (Dallas) than any of these guys.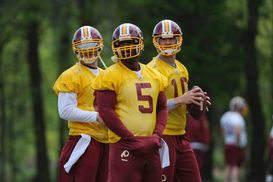 ICONNo DeSean Jackson? A bad offensive line? No chance McNabb plays 16 games this season.
4. Donovan McNabb, QB, Washington Redskins: For starters, Donny Mac has only played one full 16-game season in the last six years. Outside of the variety of injuries the Pro Bowl quarterback has suffered, McNabb was traded from the high-powered, pass-happy Philadelphia offense this past offseason to a Redskins team that features a big step down in the wide receiver and offensive line departments. Even if he can somehow manage to stay healthy, the 11-year veteran has a receiving unit that features the aging Santana Moss and the unproven and inexperienced Devin Thomas and Malcolm Kelly. The upside here is very limited.
5. Reggie Bush, RB, New Orleans Saints: Bush won't be any worse than he's been over the previous four years, but the key here for owners is to not get caught up in the impressive playoff display the former Heisman Trophy winner put on last winter. Bush was a nightmare for opposing defenses during the Saints' Super Bowl run as the 25-year old totaled 212 yards and two touchdowns in three games against some quality opponents. However, keep in mind that Pierre Thomas is still the featured ball carrier in the Big Easy and that Bush has never topped 160 carries or 600 rushing yards in his entire career. He's a better option in PPR leagues, but owners are still advised to avoid overpaying on the overhyped former USC Trojan.
6. Denver Broncos, D/ST: The Broncos shocked the fantasy world in 2009 as the defense came out of nowhere to post a top-7 fantasy finish. We're here to tell you to taper your expectations for this unit entering 2010. For starters, Denver parted ways with defensive coordinator Mike Nolan, who just happened to be the architect of the Broncos' defensive turnaround. Smart move. In addition, this unit completely fell apart down the stretch last season, giving up an average of 30.5 points and 393.5 yards per game over their final four contests (0-4). Pro Bowl defensive backs Champ Bailey (32) and Brian Dawkins (36) aren't getting any younger, not to mention the fact that Denver used six of their nine draft picks (including each of their first five) on offensive players. These guys will be overvalued on draft day so be sure to avoid this pitfall.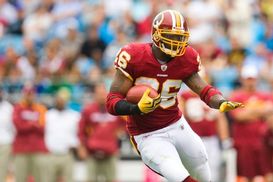 ICONPortis is no longer the only option in the Washington backfield. Larry Johnson and Willie Parker are there as well.
7. Clinton Portis, RB, Washington Redskins: All that wear and tear may finally be catching up to the 28-year old running back from Miami. After back-to-back seasons with 325 or more carries, Portis only lasted eight games last year before shutting down his season due to concussion issues. Former Denver boss Mike Shanahan was brought in to take over for Jim Zorn this offseason and if you'll think back, that's the same Shanahan that shipped Portis out of Denver in exchange for cornerback Champ Bailey back in 2004. Not only that, the Redskins were aggressive during free agency, signing veterans Larry Johnson, Willie Parker and Ryan Torain to compete and no doubt split carries with the aging Portis. This is another example of a player who will be overvalued due to his resume and name recognition. Don't make that mistake.
8. Santonio Holmes, WR, New York Jets: Never mind the fact that Holmes will miss the first four games of the season due to a violation of the league's substance abuse policy. The key here is that he's the No. 2 receiver on an offense that throws the ball less than any other team in the NFL. The Jets ranked 32nd in the league in pass to run ratio last season (41.1%) and will likely feature a heavy dose of their potent ground attack once again in 2010 as young quarterback Mark Sanchez continues to develop his skill set. New York has a simple formula for winning football games: play solid, aggressive defense and ball control offense. Holmes' limited opportunities this year will take a serious hit on his fantasy bottom line.
9. Matt Hasselbeck, QB, Seattle Seahawks: New Seahawks head coach Pete Carroll made it quite clear after taking over in Seattle this past offseason that he isn't marri ed to Hasselbeck when he traded for former San Diego Chargers backup Charlie Whitehurst. In addition, Carroll went out and signed veteran J.P. Losman in an effort to create as much competition as possible at the quarterback position. Hasselbeck turns 35-years old in September and has missed time due to injuries in three of the last four seasons. In addition, the 11-year veteran completed just 60.0% of his passes last year while throwing only 17 touchdown passes with 17 interceptions. He's clearly in the twilight of his career. No sense in jumping on this sinking ship.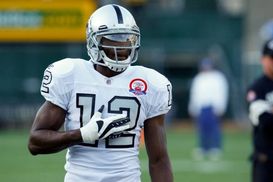 ICONNew season, same results for DHB.
10. Darrius Heyward-Bey, WR, Oakland Raiders: 9 receptions for 124 yards and one touchdown is a solid stat line for one game. But for an entire season? Unacceptable. DHB failed to live up to his top-ten draft pick status last year as the former Maryland Terrapin struggled to learn the playbook and create separation from press coverage for the majority of his rookie campaign. The addition of veteran signal-caller Jason Campbell is a big upgrade for the offense, but look for DHB to likely play third fiddle to Chaz Schilens and Louis Murphy. The lack of upside here means owners should be looking elsewhere for some WR depth.
11. Wes Welker, WR, New England Patriots: Don't pay any attention to all of the reports you hear out of New England this summer saying Welker looks good during practice and is running at close to 100%. Talk to any former player coming off a torn ACL and he will tell you that it takes at least a year to get even close to full strength. Welker wrecked his knee in Week 17 last year meaning the start of the season will take place just nine months after the Pro Bowl wideout hit the turf in Houston. Keep in mind that the Patriots went out and signed free agent wideout Torry Holt this past offseason as an insurance policy, so they obviously know their top target won't be at 100% to open the year. Welker will make some plays in 2010, but don't expect anything close to the 100+ receptions you're used to seeing.
12. Jeremy Shockey, TE, New Orleans Saints: In two years with Drew Brees and the high-powered Saints offense, Shockey has never topped 50 receptions in a season and has found the end zone just three times. In addition, the 29-year old tight end has only scored six touchdowns over the last three years and has never played a full 16-game season in his entire eight-year career. New Orleans drafted the athletically gifted Jimmy Graham (TE, Miami) this past April and also still has backup David Thomas on the roster. Shockey hasn't produced a serious fantasy stat line since 2006 and there's no reason to believe that 2010 will be any different. Between the injuries and the amount of competition he has for targets, it's tough to find much upside.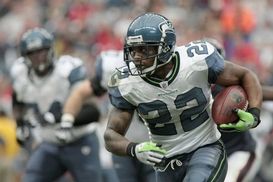 ICONExpect another below-average year for the overrated Jones.
13. Julius Jones, RB, Seattle Seahawks: Jones was on the bust list during the first two installments of the National Football Post Fantasy Draft Guide, so we felt it necessary to stick with tradition and bring him back for an unprecedented third appearance. And we'll say the same thing this year that we have in each of the past two seasons: What has this guy ever done that would make you think he's worth a spot on your roster? Forget about the fact that Justin Forsett is a better player and that the Seahawks brought in Leon Washington this past offseason. Jones hasn't topped 700 yards rushing in any of the past three seasons and has scored just 10 rushing touchdowns over the last four years. His opportunities will once again be limited in 2010 so don't waste your time.
14. Kenny Britt, WR, Tennessee Titans: Britt posted a solid rookie stat line that consisted of 42 receptions for 701 yards and three touchdowns last season with the Titans. However, the second-year wideout is on this list because we don't want fantasy owners getting too excited about Britt's prospects for 2010. For starters, his offseason work ethic has been called into question by head coach Jeff Fisher as Britt showed up for OTAs overweight and out of shape. In addition, the Titans are a run-first offense that ranked 29th in the league in pass to run ratio last season (49.6%). Not only that, but the inconsistent Vince Young will enter the season as the Tennessee starting quarterback. Keep in mind that Britt only produced two games in nine starts with more than three receptions after Young took over for veteran Kerry Collins last season. Britt makes for a quality WR3, but be careful about how much value you put into this guy in 2010.
15. Fred Jackson, RB, Buffalo Bills: Let us set the record straight by clarifying that Jackson is on the bust list not because of his talent, but because of a variety of variables that will affect his bottom line in 2010. Despite pressing needs on both sides of the football, Buffalo spent a top-ten draft pick on dynamic, dual-threat running back C.J. Spiller in April's draft, so you'd be crazy to think Jackson is going to handle a big workload with a high-priced rookie on the roster. In addition, the Bills offensive line is one of the worst in the league and will once again have trouble opening up holes in the defensive-loaded AFC East. Even when Jackson does see the bulk of the backfield workload (like he did in 2009), the veteran rusher still only found the end zone twice due to Buffalo's inability to move the football up and down the field. Jackson brings some solid value to PPR formats, but owners shouldn't overpay on a guy who could end up losing his job to a top-ten rookie this season. Remember, Marshawn Lynch is still on the roster as well.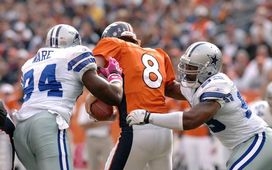 ICONOrton could be in big trouble in 2010 now that Brandon Marshall is gone.
16. Kyle Orton, QB, Denver Broncos: We liked Orton's potential last season as the former Chicago quarterback walked into a stacked offense that featured one of the most dangerous wide receivers in the game in Brandon Marshall. But things look a lot different in Mile High this year, most notably, the absence of a legitimate No. 1 wideout now that Marshall has been traded to Miami. Orton enters 2010 with competition from both veteran Brady Quinn and rookie Tim Tebow. While we fully expect him to win the starting job come Week 1, who's going to catch the football? Veterans Eddie Royal and Jabar Gaffney have the most experience, but both are No. 2's that don't have what it takes to lead an offense. Rookie Demaryius Thomas has a lot of potential, but no NFL game experience. Stay away from Orton this year. He was pretty good with Marshall, but without him, it's going to get worse before it gets better.
17. Arizona Cardinals D/ST: Despite a top-ten fantasy finish last season and a weak division, we're having a tough time getting behind the Arizona Cardinals in 2010. Defensive captain and starting middle linebacker Karlos Dansby signed with the Miami Dolphins and starting safety Antrel Rolle took the money and joined the New York Giants. Defensive tackle Darnell Dockett is still looking for a new contract and without the efficient Kurt Warner running the offense (he retired and Matt Leinart took over), this unit could find themselves in some sticky situations this season. Target the Cardinals as a D/ST2 at best. You aren't going to want this unit anchoring a starting roster spot for the majority of the season.
18. Mark Sanchez, QB, New York Jets: Sanchez has the skill set and the swagger that will eventually make him one of the league's better quarterbacks. The problem is that in the fantasy world, game management is something that doesn't put points on the scoreboard. The New York Jets win football games by playing sound, aggressive defense coupled with smart, efficient offense. Translation: Keep the ball on the ground, move the sticks and let the defense win the game. New York ranked dead last in pass to run ratio last season (41.1%) and will likely finish towards the bottom of the league again in 2010. Sanchez will post some respectable games, but he isn't going to throw the ball enough to warrant a roster spot.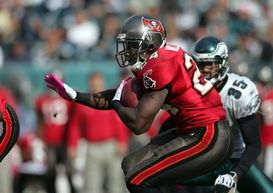 ICONCadillac brings name recognition to the table, but he'll be overvalued on draft day.
19. Cadillac Williams, RB, Tampa Bay Buccaneers: Cadillac has done enough in his five-year career to warrant some intrigue from owners who recognize his name in the middle rounds. However, don't get caught up thinking this guy is going to recreate his rock-solid 2005 rookie campaign. Williams has battled a host of serious injuries during his career and has never turned in a full 16-game season. In addition, he'll be splitting carries with Derrick Ward on an offense that will have some trouble moving the football in 2010. Williams makes for a good flex option this season, but don't count on him to produce RB1 or RB2 numbers. His opportunities will be limited.
20. Bernard Berrian, WR, Minnesota Vikings: The arrival of future Hall of Famer Brett Favre had many of us drooling at Berrian's upside entering the 2009 season. But a lingering hamstring injury coupled with the emergence of Sidney Rice and rookie Percy Harvin limited his role and left him as a fantasy afterthought. Expect much of the same in 2010 as Vikings head coach Brad Childress works to get Harvin even more involved in the offense. In addition, for as solid a season as Favre produced last year, Minnesota still ranked 23rd in the league in pass to run ratio (55.7%) meaning the offense still runs through Adrian Peterson. Berrian will post some respectable numbers, but he's a late-round pick at best.