July 20, 2011 -
Barry Dorey
Busts
Updated on August 23 @ 9:15am. (new additions are located at the bottom)
It's all about value.
When we use the word "bust," we aren't necessarily talking about players who will post awful statistical seasons. We're talking about guys who won't live up to their draft positions.
For example, Kansas City Chiefs wide receiver Dwayne Bowe is on the NFP's 2011 Bust list. That doesn't mean we think Bowe will have a terrible season, it means we think his stats won't justify a second or third round pick (which is where his current ADP places him).
With that in mind, lets take a look at some players who are currently overvalued entering the 2011 season…
Knowshon Moreno, RB, Denver Broncos: New head coach John Fox has made it very clear that addressing the running back position is one of Denver's top priorities entering the free agency period. Coaches normally don't say things like that when they're excited about the talent currently on the roster. Moreno is headed for a reduced role in 2011.
Update: We still aren't very high on Moreno entering the season, but the addition of over-the-hill veteran Willis McGahee doesn't do a ton of damage to Moreno's value. We like him a bit more now.
Kenny Britt, WR, Tennessee Titans: Forget for a minute that his 216 offseason arrests could lead to a suspension and just think about how tough it will be for Britt to produce consistent numbers with Rusty Smith and Jake Locker at quarterback. This guy has a ton of talent, but his situation, focus and supporting cast raise a lot of questions.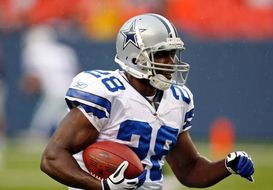 ICONEvery year someone hypes up Jones and every year he fails to meet expectations.
Felix Jones, RB, Dallas Cowboys: Jones averaged a meaty 6.5 yards per carry during his first two NFL seasons, but struggled to stay healthy and appeared in just 20 of 32 games. When he finally figured out how to stay on the gridiron for a full 16-game season, his YPC average plummeted to a pedestrian-like 4.3. The 24-year-old scored just two touchdowns in 2010 and is now left to wonder why his team spent a third-round pick on former Oklahoma standout DeMarco Murray. Clearly, the Dallas coaching staff isn't thrilled with their current platoon of running backs.
Tony Gonzalez, TE, Atlanta Falcons: Gonzo is now 35-years-old and posted his worst stat line (70-656-6) since 1998 last season, despite playing on the league's fifth-highest scoring offense. Not only that, but the addition of rookie wideout Julio Jones will cut into his targets. Keep in mind that Gonzalez rolled up 30 or fewer receiving yards in three of the Falcons' final four games last year and only posted two outings with more than 55 receiving yards. The upside just isn't there.
Peyton Hillis, RB, Cleveland Browns: Do NOT expect a stat line like last year's in 2011. Hillis failed to find the end zone in each of his final five games last season and was limited to 60 or fewer rushing yards in four of his final five contests. In addition, Montario Hardesty is back from a knee injury that cost him his entire rookie season, so Hillis should see a reduction in touches as well. We don't think he'll have an awful season, but Hillis isn't worth a second-round pick like his current ADP suggests.
Hines Ward, WR, Pittsburgh Steelers: Name recognition and the fact that he plays for the Steelers could drive Ward's price up a bit on draft day, which is exactly why you need to take a pass and look for more upside. Granted, Ben Roethlisberger's suspension didn't help, but Ward is coming off his worst statistical campaign (59-755-5) since 2000. At 35-years-old, there's only so much gas left in the tank.
Ryan Mathews, RB, San Diego Chargers: The way we see it, this guy needs to show us something before we start touting him as a viable RB1/RB2 candidate. Mathews was way overvalued entering his rookie season due to head coach Norv Turner's preseason comments that his newest running back was headed for close to 300 touches. In addition, injuries are a big red flag here, as is the fact that fullback Mike Tolbert will likely handle a major portion the goal line work. A third-round pick seems a tab steep at this point in time.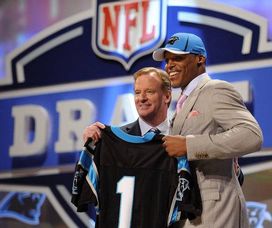 No.
Cam Newton, QB, Carolina Panthers: This one's obvious, but I wanted to make it very clear for those of you who were on the Newton bandwagon that 2011 is not the year to expect any viable fantasy numbers. For starters, he's off to a bad start due to the NFL lockout, which cost him valuable OTA sessions. In addition, Newton is still a bit raw as a passer and has no experience in a pro-style offense. Did we forget to mention that if wideout Steve Smith leaves, Newton will be stranded with virtually no weapons? Don't fall for the old banana in the tail pipe.
Beanie Wells, RB, Arizona Cardinals: Same situation as Knowshon Moreno except that rather than say they plan on upgrading the running back position, Ken Whisenhunt and the Cardinals actually went out and did it when they drafted Virginia Tech's Ryan Williams in the second round. Wells is a non-factor in the passing game, averaged a pathetic 3.4 yards per carry last season and found the end zone only two times. Don't forget that Tim Hightower is still on the roster as well, meaning Wells' touches will definitely be limited in 2011.
Update: With rookie Ryan Williams out for the season with a knee injury, Wells' value is on the rise. Unless the Cardinals sign another running back soon, Beanie comes at a good price for how many touches he should see this year.
Dwayne Bowe, WR, Kansas City Chiefs: We think Bowe is headed for a good season, but nothing like what he produced in 2010 when he caught 15 touchdown passes (most among WRs) and finished the year ranked second in fantasy scoring among wideouts. Offensive coordinator Charlie Weis is gone, the schedule is tougher and opposing defenses will be keying more on him this year. Oh yeah, keep in mind that Bowe scored only one touchdown and caught just 14 passes over his final five games last season. He's just too risky to be worthy of a third round pick.
Marcedes Lewis, TE, Jacksonville Jaguars: Lewis scored a combined seven touchdowns during his first four NFL seasons while never finishing higher than 19th in fantasy scoring among tight ends. Then, something interesting happened: Lewis entered a contract year in 2010, set career highs in receptions (58), receiving yards (700) and touchdowns (10) and finished fourth in fantasy scoring among TEs. Stinks like a "contract year explosion" to us, which means we can't trust this guy.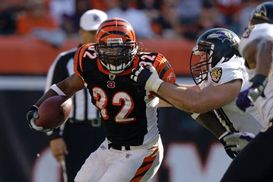 ICONStop traffic. Benson recently had another run-in with Johnny Law.
Cedric Benson, RB, Free Agent: He's 28-years-old, has carried the rock 300+ times in each of the past two seasons and has averaged 3.5 yards per carry or less in three of the last four years. Not only that, but Benson was recently arrested (yet again) and has always been a wild card when it comes to maturity and dedication. His upsi de is limited and don't be surprised if Benson's age finally catches up with him this season.
Donald Driver, WR, Green Bay Packers: Before all you Green Bay Packers fans erupt into a fiery ball of hatred, let us say that we have nothing but love and respect for what Driver has achieved during his 12-year career. But the guy is now 36-years-old and is coming off his worst statistical season since 2003. His upside is limited while a younger Packer wideout named Jordy Nelson is ready to step up and make his mark. No sense in wasting a roster spot here when you can take a flyer on a younger player with a higher ceiling.
Jay Cutler, QB, Chicago Bears: Mr. Cavallari was able to cut his interception total from 26 to 16 last season, but he threw for only 3,274 yards (17th in NFL), notched just 23 touchdown passes (13th in NFL) and is still without a viable No. 1 wide receiver to target on Sundays. The guy will pick up some points with his feet, but keep in mind that he was outscored in fantasy points by both David Garrard and Matt Cassel last season. Unless the Bears bring in a legitimate receiving threat in 2011, expect more of the same.
Update: The addition of wide receiver Roy Williams increases Cutler's value now that the Chicago signal-caller finally has a No. 1 target. We don't love Cutler, but you can take him off the bust list.
Chad Ochocinco, WR, Cincinnati Bengals: He's one of the most entertaining people in the world on Twitter, but that only serves as a distraction from the fact that he's now 33-years-old and in possession of a declining skill set. Ocho's racked up 1,000 receiving yards just once in the last three years and could be headed for a new team in the next few weeks. We'll let you know if we upgrade his status, but it's unlikely.
Update: Now that he's in New England, you should not only take Ochocinco off the bust list, but you should move him over to the "Sleepers" list ASAP. We LOVE his value entering 2011.
Ryan Grant, RB, Green Bay Packers: This one all comes down to Grant's training camp battle with the suddenly surging James Starks, who put on quite a show during the Packers' Super Bowl run last winter. Even if Grant wins the gig, we have a feeling he'll be sharing the workload for the majority of the season.
Jonathan Stewart, RB, Carolina Panthers: With DeAngelo Williams possibly headed for a new team via free agency, many fantasy publications are touting Stewart as a potential top-12 fantasy selection. We like his skill set, but A) there's a chance Williams returns to the Panthers B) this offense is going to struggle BIG TIME with Cam Newton at quarterback and C) don't forget about third-year back Mike Goodson, who caught 40 passes as a role player last year. Stewart isn't worth the hefty price tag.
NEW ADDITIONS
Sidney Rice & Mike Williams, WRs, Seattle Seahawks: The Seahawks spent $8 million on Tarvaris Jackson and after two preseason games, it looks like Charlie Whitehurst may win the starting job. Something stinks in the Pacific Northwest and we have a feeling the boys from Seattle could be in for a long year.
Ronnie Brown, RB, Philadelphia Eagles: Don't get caught up in name recognition with Brown. The Eagles love to throw the football and when they do decide to run, more often than not it will be with Michael Vick and LeSean McCoy. Brown was signed to play a role. Good for Philly, bad for fantasy owners.