November 14, 2013 -
Joe Fortenbaugh
Buyer's remorse?
Upon initial inspection, the September 18 trade between the Browns and Colts that sent 23-year-old running back Trent Richardson to Indianapolis in exchange for the team's first-round selection in the 2014 NFL draft appeared to succeed in accomplishing the primary objectives for both franchises.
Under new management with a first-year coaching staff who had recently commenced yet another rebuilding process in The Forest City, the Browns increased their draft pick arsenal to ten selections, two of which carry a first-round designation. Having ranked 22nd in the NFL in rushing in 2012 and on the heels of losing one of their primary ball carriers in Vick Ballard to a season-ending ACL injury, the Colts addressed their biggest offensive concern with the addition of a second-year running back who had amassed 1,317 total yards and 12 scores as a rookie in 2012 for the 4-12 Browns.
Two teams heading in opposite directions, two franchises content with the high profile exchange.
But fast-forward eight weeks and those same two organizations may be experiencing a different range of emotions in the wake of their blockbuster trade.
The Cleveland Browns are no doubt still reveling in the aftermath of what the franchise achieved back on September 18. Rod Chudzinski's team has gone 4-3 since shipping Richardson to Indianapolis, is armed to the teeth with draft picks for next year's lottery and found a replacement in a broken down, 32-year-old Willis McGahee, who has amassed more carries and rushing yards with Cleveland than Richardson has with Indianapolis in the exact same amount of contests.
The Indianapolis Colts, on the other hand, may now be pondering the reason as to why Cleveland was so quick to part with a player whom the team had drafted third overall just 17 months prior.
Since joining the Colts for their Week 3 tilt at San Francisco, Richardson has carried the ball just 88 times for 250 yards and two scores, with a highly ineffective yards per carry average of just 2.84. Add those numbers to what the Alabama product racked up during his two starts with Cleveland (31 carries, 105 yards, zero touchdowns) and you have a running back who currently ranks 32nd in the NFL in rushing yards (behind Pierre Thomas, Chris Ivory, Lamar Miller and quarterbacks Terrelle Pryor and Russell Wilson), 45th in yards per carry average (behind Montee Ball, Daniel Thomas and Jacquizz Rodgers), 23rd in rushing attempts per game (behind BenJarvus Green-Ellis, DeAngelo Williams and DeMarco Murray) and 47th in carries of ten or more yards (behind Bilal Powell, Mark Ingram, Mike James and quarterback Alex Smith).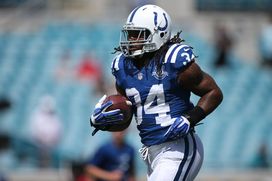 Richardson hasn't topped 75 rushing yards in a game in any of his last 13 outings.
That's not exactly what the Colts, who went 11-5 and qualified for the playoffs in 2012, were hoping for when they shipped a first-rounder to Cleveland, were they?
Perhaps what's even more intriguing is how the Colts have utilized their pricey acquisition, who was considered by many to be a true workhorse running back after recording an average of 21.76 rushing attempts per game during his final season at Alabama.
Through seven appearances with the Colts, Richardson is averaging only 12.57 carries per game, with a combined 13 rushing attempts over his last two starts and just two outings with 15 or more carries. 12.57 rushing attempts per game doesn't scream "workhorse running back." Instead, it places Richardson in the ever-expanding "running back by committee" category, which features players such as Cincinnati's BenJarvus Green-Ellis (14.0 carries/gm), Arizona's Rashard Mendenhall (13.1 carries/gm), Buffalo's Fred Jackson (12.9 carries/gm) and the New York Jets' Bilal Powell (12.1 carries/gm).
Ask any general manger in the NFL if he's willing to trade a first-round pick for just one piece of the running back puzzle and he's likely to hang up the phone before you can even finish asking the question.
Which brings us, inevitably, to the question of why would the Colts pay such a high price for a position with a short shelf life that continues to be devalued by this pass-first league each and every year?
The 2013 NFL draft marked the first time since 1963 that zero running backs were selected during the first round. Of the collegiate ball carriers who did eventually hear their names called, four (Giovani Bernard, Eddie Lacy, Zac Stacy and Andre Ellington) have rushed for more yards in 2013 than Trent Richardson. Each player came at a much cheaper price than Richardson, allowing the teams who drafted them to focus on more integral positions during the early stages of the annual lottery.
None of this is meant to imply that the Trent Richardson trade will go bust on the Indianapolis Colts. After all, it's been just seven games since Indy and Cleveland swung the deal. Richardson is only 23-years-old and has plenty of gas left in the tank to make his mark on the National Football League.
But while the Colts are evaluating their roster in preparation for next year's draft minus a first-round selection, the Browns will continue the rebuilding process with a stable of picks that will no doubt result in the team's next franchise quarterback.
As for the running back void the Browns will almost certainly need to address, recent history has demonstrated that Cleveland can likely find a productive starter sometime well after the dust has settled on the first round.
Hit me up on Twitter: @JoeFortenbaugh