August 03, 2011 -
Barry Dorey
Cadillac parks in St. Louis
Looks like Steven Jackson won't be asked to carry the football 320+ times for the third consecutive season.
One day after signing former Falcons running back Jerious Norwood to a one-year deal, the St. Louis Rams were at it again on Wednesday as the team reached an agreement on a one-year contract with free agent running back Cadillac Williams, per Jim Thomas of the St. Louis Post-Dispatch.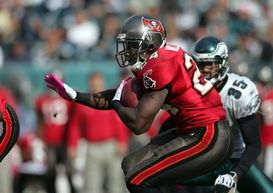 ICONThe signing of Williams gives the Rams some much-needed depth at the running back position.
The signing marks the third time this week that a 2005 first-round draft pick from Auburn joined a new team. On Tuesday, cornerback Carlos Rogers (9th overall to Washington) signed with the 49ers while running back Ronnie Brown (2nd overall to Miami) landed in Philadelphia.
A six-year veteran with 3,677 rushing yards under his belt, the 217-pound Williams should serve as a nice complement to Pro Bowler Steven Jackson this season.
The Rams have done a nice job over the past two weeks of upgrading their offense in an effort to give quarterback Sam Bradford the best chance for success in his sophomore campaign. In addition to signing two veteran running backs, the team went out and landed free agent wide receiver Mike Sims-Walker as well.
St. Louis is currently listed at 2/1 to win the NFC West and 30/1 to win the NFC.
Hit me up on Twitter: @JoeFortenbaugh