April 25, 2012 -
Joe Fortenbaugh
Calvin Johnson is your Madden 13 cover boy
A hefty new contract isn't the only thing Lions wide receiver Calvin Johnson earned this offseason.
After five weeks of voting in a March Madness-style tournament, the 26-year-old wideout defeated Carolina Panthers quarterback Cam Newton in the finals for the cover of EA Sports' Madden 13 video game.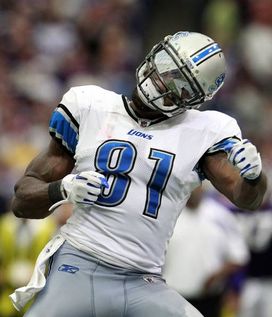 The fans have spoken: Calvin Johnson will appear on the cover of Madden 13.
Over 20 million votes were cast in the final round that saw both players present in New York City and on the set of ESPN's SportsNation, where the official announcement was made.
Johnson defeated Chiefs wide receiver Dwayne Bowe, Texans running back Arian Foster, Patriots tight end Rob Gronkowski and Packers quarterback Aaron Rodgers before taking out the Panthers quarterback in the final round.
Before falling to Johnson, Newton beat out Buccaneers running back LeGarrette Blount, Chargers tight end Antonio Gates, Cardinals wide receiver Larry Fitzgerald and 49ers linebacker Patrick Willis.
Now comes the conversation about the infamous "Madden curse" and whether or not it will claim another victim in Johnson, who has only missed three games over the last four seasons.
Hit me up on Twitter: @JoeFortenbaugh