July 29, 2011 -
Barry Dorey
Can the Texans hold on to Vonta Leach?
Free agent fullback Vonta Leach is one of those key offensive players whose contributions don't always show up in the stats column.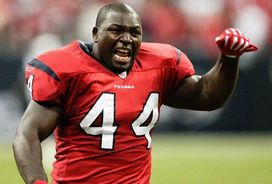 Will Leach re-sign with the Texans?
But the Houston Texans are well aware of what he brings to their football team, as are four other organizations that are currently in pursuit of the 2011 Pro Bowler.
Mark Berman of MyFoxHouston.com reports that five teams—the Texans, Cowboys, Ravens, Broncos and Giants—have all expressed interest in signing Leach.
After spending the first two plus seasons of his seven-year career in Green Bay, Leach arrived in Houston where he's appeared in all 64 games the Texans have played since 2007.
Per Leach's agent, Ralph Vitolo, via Berman, ""We are still hopeful Vonta can return to the Texans, if at all possible."
We're sure there are plenty of Texans fans thinking the same thing right about now.
Hit me up on Twitter: @JoeFortenbaugh