August 14, 2012 -
Joe Fortenbaugh
Cantor Gaming offers new way to bet fantasy football
One of my favorite aspects of working at the National Football Post is the interaction I get to have with the readers. Whether it be email, twitter or drinks in person down at the Golden Nugget, talking football with you guys and gals over the past four years has been my absolute pleasure.
And that includes those of you who love to bust my balls on Monday mornings after a fantasy recommendation of mine failed to meet the hype. Don't get me wrong. I've got thick skin and don't take the hate mail personally. But those of you who fancy yourselves as experts in the field of fantasy football now have a chance to prove it.
Cantor Gaming, who operates seven sportsbooks here in Las Vegas (Venetian, Palazzo, M Resort, Tropicana, Hard Rock, Palms and Cosmopolitan)—with an eighth shop scheduled to open in October at the Silverton Casino Hotel)—is about to unleash a whole new way to play fantasy football.
And if your knowledge is good enough, you'll have the opportunity to make some serious cash playing.
Beginning in Week 1, Cantor will offer the Cantor 7, a fantasy football game that pits two teams of seven NFL players each against one another. Cantor will post somewhere between six and 12 Cantor Teams starting on Wednesday mornings. At that time, bettors are free to either come into the sportsbook or play online (if you download the app and are within the Nevada borders) to draft their own seven-man team. Cantor will then set a point spread for the matchup and the bettor will have the option of wagering on his team or on Cantor's team.
"As soon as that line is created, we allow you to bet on your team or our team," Cantor Race & Sportsbook Director Mike Colbert told the National Football Post Tuesday afternoon. "To let you know the number is fair, we don't force you to bet on your own team. We do it right now for baseball with the Cantor 6. Some guys pick really bad teams and then after the line comes out, they bet the Cantor team."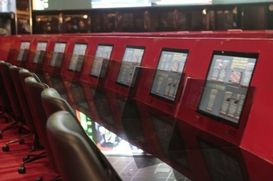 Betting terminals at the Cantor Gaming sportsbook inside the Venetian.
Rosters will include one quarterback, two running backs, two wide receivers (or tight ends), one kicker and one team defense. Players can wager to win up to $2,000 per bet (with -110 juice on both fantasy teams) and also have the option of passing on the point spread that Cantor has created. In fact, bettors can substitute players until they find a line they are interested in betting. (The scoring system is listed at the end of this article, with all official stats coming from NFL.com).
Here's an example of how the process works:
One of the Cantor Teams for a given week features the following players: Drew Brees, Michael Turner, Marshawn Lynch, Greg Jennings, Rob Gronkowski, Nate Kaeding and the New York Giants D/ST.
The bettor thinks this particular Cantor Team is headed for a bad week. He picks them off the board and then drafts the following players: Aaron Rodgers, LeSean McCoy, Ray Rice, Brandon Marshall, Victor Cruz, David Akers and the Houston D/ST.
Cantor immediately posts a line that lists the player's team as, let's say, 6.5-point favorites.
The player feels his team will crush the Cantor Team, so he places a bet on the team he drafted.
Simple, right?
Bettors will have from Wednesday morning until Sunday morning before kickoff to draft teams and place wagers. However, you aren't allowed to draft a team that features more than one player who has already been drafted on the Cantor Team you selected. In addition, if one player from either team is ruled out for that week's game, the bet is no action and wagers will be refunded.
Cantor is making this game as easy as possible to play. While you have to fund an account in person at one of the company's properties, you'll never have to step foot inside the sportsbook again (assuming you don't go bust). Bettors can draft teams and make wagers from computers, cell phones and tablets, as long as they are within the Nevada borders and have downloaded the app.
"We're all about account wagering," said Colbert. "We think that betting at the sportsbook counter is a thing of the past. We still take bets at the counter, but this stuff is all done electronically. For a product like this to be really popular, you have to let people play from home. You can't make them come to the casino for this stuff. They want to do it from the comfort of their home or when they're out and about."
I'll be putting the Cantor 7 to the test in a few weeks and will post my team, Cantor's team and the spread online for you guys to examine.
And then I'll wait patiently for all the Monday morning emails calling me an idiot.
Hit me up on Twitter: @JoeFortenbaugh
Each quarterback, running back, wide receiver or tight end earns:
• 6 points for every rushing or receiving touchdown
• 6 points for every return of a kick or punt for a touchdown
• 6 points for every fumble recovery return for a touchdown
• 4 points for every passing touchdown
• 2 points for every rushing or receiving two-point conversion
• 2 points for every passing two-point conversion
• 1/10 point for every yard rushing or receiving
• 1/25 point for every yard passing
Each kicker earns:
• 5 points for every field goal made from a distance of 50 yards or more
• 4 points for every field goal made from a distance of between 40 and 49 yards
• 3 points for every field goal made from a distance of 39 yards or less
• 2 points for every rushing or passing two-point conversion
• 1 point for every extra point made after a touchdown
Every defense team earns:
• 10 points if the team concedes 0 points
• 7 points if the team concedes between 2 and 6 points
• 4 points if the team concedes between 7 and 13 points
• 1 point if the team concedes between 14 and 17 points
• 0 points if the team concedes between 18 and 21 points
• -1 point if the team concedes between 22 and 27 points
• -4 points if the team concedes between 28 and 34 points
• -7 points if the team concedes between 35 and 45 points
• -10 points if the team concedes 46 points or more
• 3 points for every defensive or special teams touchdown
• 2 points per interception during the game
• 2 points per fumble recovery
• 2 points per blocked punt, blocked field goal, or blocked point after touchdown
• 2 points per safety
• 1 point per sack