March 11, 2013 -
Joe Fortenbaugh
Cardinals move on from Beanie Wells
Here's the latest example of why the running back position is being targeted less and less frequently during the first round of the NFL draft.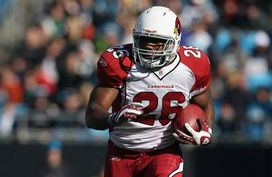 After four years in Arizona, Beanie Wells is now free to sign with a new team.
Four-year veteran Beanie Wells—who was selected 31st overall out of Ohio State back in 2009—announced on twitter Monday that he will be released by the Arizona Cardinals. Wells had one season left on a five-year rookie deal that carried a $2.42 million cap number for 2013. The move will also save Arizona $1.3 million in roster bonus money that the running back was scheduled to make this coming season.
To say that Wells' time in Arizona was a disappointment is an understatement. The former Buckeye started just 23 of a possible 64 games during his four seasons in the desert, amassing only 2,471 yards in the process. Having appeared in only eight games last year coupled with the fact that the Cardinals depth chart currently features Ryan Williams and William Powell, it doesn't come as a shock to see Arizona heading in a different direction.
Wells will now enter a free agent pool that features veteran ball rushes Steven Jackson, Michael Turner and Ahmad Bradshaw, to name a few. And while Wells may be younger than all three of those aforementioned running backs, he's also proven to be far less productive.
Hit me up on Twitter: @JoeFortenbaugh