March 14, 2013 -
Joe Fortenbaugh
Cardinals ready to move on from Kevin Kolb? (Update: Yes)
The situation hasn't played out exactly as the Arizona Cardinals had hoped it would when the team sent cornerback Dominique Rodgers-Cromartie and a second-round pick to the Philadelphia Eagles in exchange for quarterback Kevin Kolb back in 2011. Since dishing out a six-year, $63 million deal with $20 million guaranteed to the quarterback, the team has watched Kolb appear in just 15 of a possible 32 regular season games, posting a 6-8 record as a starter with an overall passer rating of 83.2.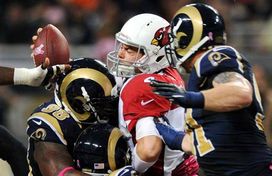 Has Kevin Kolb played his last game for the Arizona Cardinals?
But the situation in the desert has changed this offseason. Bruce Arians is the team's new head coach and the organization has already brought in another signal-caller, signing Drew Stanton to a three-year, $8.2 million deal on Wednesday.
So what does that mean for Kolb's future with the Cardinals? For starters, it means the team will have to make a big decision in the very near future. Per Mike Florio of Pro Football Talk, Kolb is due a $2 million roster bonus if he's still with the Cardinals come Saturday and the team has yet to make a determination on his status as of the current moment.
Further adding fuel to the fire that Kolb's time with the Cardinals may be up, the quarterback carries a 2013 cap number of $13.5 million that includes a base salary of a staggering $9.0 million.
At the moment, wide receiver Larry Fitzgerald is the only player on the Arizona roster making more money per year than Kolb.
If Kolb finds himself out on the street come this weekend, we've certain it won't take very long for him to find another place to play. But not at the rate Arizona was paying him, and most likely not as a starter.
Update: NFL.com's Ian Rapoport is reporting that the Cardinals plan to release Kolb before his roster bonus comes due.
Hit me up on Twitter: @JoeFortenbaugh