July 27, 2011 -
Barry Dorey
Cash money: Clayborn gets $8.2 million guaranteed
Not only did the Tampa Bay Buccaneers make defensive end Adrian Clayborn the first first-round pick to get under contract this summer, they also made him the first rookie to land a fully guaranteed deal since quarterback Rick Mirer scored one back in 1992, per multiple tweets from Adam Schefter of ESPN.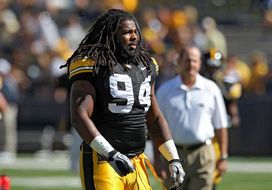 ICONClayborn just got paid.
That's right. Clayborn's four-year, $8.2 million contract is fully guaranteed.
With business out of the way, the former Hawkeye can now begin the process of working with defensive tackles Gerald McCoy and Brian Price and fellow rookie defensive end Da'Quan Bowers to become the youngest and possibly most talented defensive line in the league.
Although I'm sure the guys in Detroit may have something to say about that.
Will Clayborn will NFL defensive rookie of the year? Let us know in the NFP Forums!
Hit me up on Twitter: @JoeFortenbaugh