July 05, 2013 -
Joe Fortenbaugh
Celebrating in silver
Baltimore Ravens head coach John Harbaugh sent his coaching staff on summer vacation last month with an expensive reminder of what can be achieved when a first-class organization fires on all cylinders.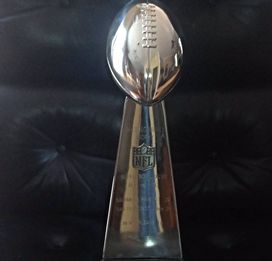 Harbaugh presented each of his assistants with the above replica trophy.
The National Football Post has learned from multiple sources within the Baltimore organization that on June 18, the staff's last day of work before summer vacation, Harbaugh presented each of his assistant coaches with a replica of the team's 2013 Vince Lombardi Super Bowl Trophy.
The authentic Vince Lombardi Trophy, which the Ravens claimed after defeating the San Francisco 49ers 34-31 in Super Bowl XLVII on February 3, is produced by jewelry icon Tiffany & Co. and is estimated to cost somewhere in the neighborhood of $25,000-$50,000. The trophy is handcrafted from seven pounds of sterling silver and takes approximately four months to make.
Each replica is believed to have cost somewhere between $10,000 and $20,000, which means that Harbaugh could have shelled out well over $200,000 on the trophies for a coaching staff that currently includes 22 assistants.
Inscribed on each replica under the NFL shield is the following:
Super Bowl XLVII
AFC vs. NFC
Baltimore Ravens 34
San Francisco 49ers 31
New Orleans, LA
The Team
Baltimore's first full-team training camp practice gets underway July 25, giving Harbaugh's assistants plenty of time to showcase their new dining room table centerpieces before commencing the process of defending last season's world championship.
Hit me up on Twitter: @JoeFortenbaugh