July 22, 2013 -
Joe Fortenbaugh
CFB win totals, games of the year and more
39 days. Whether you can believe it or not, we are just 39 days from the start of the 2013 college football season. The Crimson Tide are preparing to make a run at their third consecutive national championship, the hype/scrutiny surrounding Texas A&M quarterback Johnny Manziel has reached epic proportions and somewhere in Columbus, Ohio, Ohio State head coach Urban Meyer is huddled in his laboratory looking to build off last season's undefeated 12-0 campaign. Right now, all we have are questions. But soon enough, we'll begin to get some answers.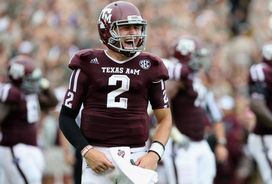 Manziel and the Aggies hit the LVH board with a win total of 9.5.
On Sunday, the LVH sports book here in Las Vegas released a plethora of college football betting options for the 2013 season ranging from season win totals to over 100 games of the year point spreads. Everything that hit the board is listed below.
Feel free to hit up the comments section to weigh in with your thoughts and predictions.
2013 LVH COLLEGE FOOTBALL SEASON WIN TOTALS
*All teams must play 12 regular season games for action.
*USC must play 13 regular season games for action.
*Teams must play all scheduled opponents.
*No parlays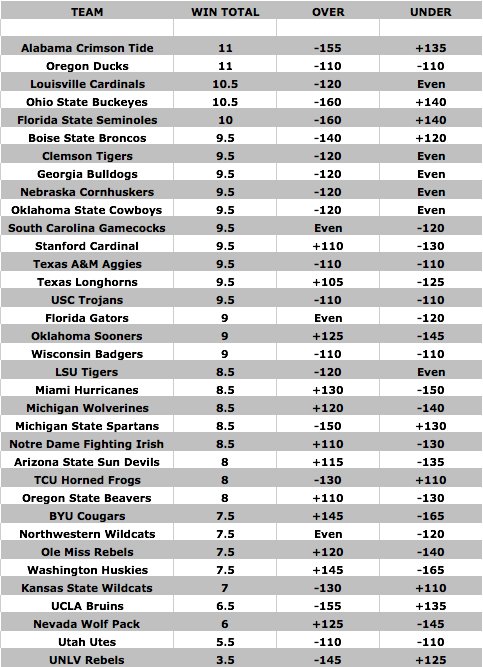 NOTES
Alabama Crimson Tide (11): 12 or more wins in three of last four seasons (32-18 ATS during that stretch). Key dates include September 14 showdown at Texas A&M, November 9 home date vs. LSU.
Ohio State Buckeyes (10.5): Went 12-0 in first season under new head coach Urban Meyer (7-5 ATS) and faces a relatively soft schedule with only one semi-imposing road date (November 30 at Michigan).
Boise State Broncos (9.5): You have to go back to the year 2005 to find the last time Boise State failed to win at least ten games during the regular season. Take note that this season's schedule features six road contests.
Texas A&M Aggies (9.5): No team has been bet more frequently in Las Vegas to win this year's national championship than the Aggies. Head coach Kevin Sumlin went 11-2 (7-4 ATS) in his first year on the job in 2012, but the Aggies have a daunting rematch with the Crimson Tide looming early in the season (September 14). If you think Manziel and company can escape September undefeated, you might want to consider targeting the over on this one.
Clemson Tigers (9.5): A dark horse candidate to win the national title, Clemson opens the year with a bang (8/31 vs. Georgia) and has to then navigate a schedule that features an October 19 home showdown with the Seminoles and November 30 travel date at South Carolina.
2013 LVH COLLEGE FOOTBALL GAMES OF THE YEAR
*Games must be played within eight days of scheduled date for action
*Game must be played at designated site
Friday, September 6
Wake Forest Demon Deacons at Boston College Eagles (-1)
Saturday, September 7
South Carolina Gamecocks at Georgia Bulldogs (-5)
Florida Gators (-6) at Miami Hurricanes
West Virginia Mountaineers at Oklahoma Sooners (-16.5)
Texas Longhorns (-6.5) at BYU Cougars
Notre Dame Fighting Irish at Michigan Wolverines (-3)
Thursday, September 12
TCU Horned Frogs (-6) at Texas Tech Red Raiders
Friday, September 13
Air Force Falcons at Boise State Broncos (-19.5)
Saturday, September 14
UCLA Bruins at Nebraska Cornhuskers (-7)
Alabama Crimson Tide (-6.5) at Texas A&M Aggies
Iowa Hawkeyes at Iowa State Cyclones (-1)
Oregon State Beavers (-3) at Utah Utes
Wisconsin Badgers at Arizona State Sun Devils (-5)
Thursday, September 19
Clemson Tigers (-9.5) at North Carolina State Wolfpack
Friday, September 20
Boise State Broncos at Fresno State Bulldogs (-2)
Saturday, September 21
Utah Utes at BYU Cougars (-5)
Arizona State Sun Devils at Stanford Cardinal (-8.5)
Michigan State Spartans at Notre Dame Fighting Irish (-5.5)</p>
Thursday, September 26
Virginia Tech Hokies (-1) at Georgia Tech Yellow Jackets
Friday, September 27
Utah State Aggies at San Jose State Spartans (-1)
Saturday, September 28
LSU Tigers at Georgia Bulldogs (-5.5)
Texas A&M Aggies (-14) at Arkansas Razorbacks
USC Trojans at Arizona State Sun Devils (-2.5)
Oklahoma Sooners at Notre Dame Fighting Irish (-1)
Wisconsin Badgers at Ohio State Buckeyes (-10.5)
Thursday, October 3
Texas Longhorns (-13.5) at Iowa State Cyclones
UCLA Bruins (-1.5) at Utah Utes
Friday, October 4
BYU Cougars (-2) at Utah State Aggies
Saturday, October 5
TCU Horned Frogs at Oklahoma Sooners (-7)
Notre Dame Fighting Irish (-2) at Arizona State Sun Devils [Arlington, Texas]
Ohio State Buckeyes (-7.5) at Northwestern Wildcats
Thursday, October 10
Rutgers Scarlet Knights at Louisville Cardinals (-12)
Arizona Wildcats at USC Trojans (-10)
Friday, October 11
Temple Owls at Cincinnati Bearcats (-17)
Saturday, October 12
Texas Longhorns (-2) at Oklahoma Sooners [Dallas, Texas]
Florida Gators at LSU Tigers (-3)
Texas A&M Aggies (-5.5) at Ole Miss Rebels
Stanford Cardinal (-9.5) at Utah Utes
Oregon Ducks (-12.5) at Washington Huskies
Michigan Wolverines (-3) at Penn State Nittany Lions
Boise State Broncos (-3) at Utah State Aggies
Thursday, October 17
Miami Hurricanes at North Carolina Tar Heels (-3)
Friday, October 18
Central Florida Knights at Louisville Cardinals (-11.5)
Saturday, October 19
Florida State Seminoles at Clemson Tigers (-1.5)
Florida Gators (-8) at Missouri Tigers
TCU Horned Frogs at Oklahoma State Cowboys (-7)
LSU Tigers (-4) at Ole Miss Rebels
UCLA Bruins at Stanford Cardinal (-11.5)
USC Trojans at Notre Dame Fighting Irish (-3)
Thursday, October 24
Kentucky Wildcats at Mississippi State Bulldogs (-11.5)
Friday, October 25
Boise State Broncos at BYU Cougars (-2)
Saturday, October 26
South Carolina Gamecocks (-7.5) at Missouri Tigers
Tennessee Volunteers at Alabama Crimson Tide (-28)
Texas Longhorns (-2.5) at TCU Horned Frogs
UNLV Rebels at Nevada Wolf Pack (-14)
UCLA Bruins at Oregon Ducks (-18.5)
Stanford Cardinal (-3.5) at Oregon State Beavers
Thursday, October 31
Arizona State Sun Devils (-12.5) at Washington State Cougars
Friday, November 1
USC Trojans at Oregon State Beavers (-1.5)
Saturday, November 2
Miami Hurricanes at Florida State Seminoles (-11.5)
North Carolina Tar Heels (-4.5) at North Carolina State Wolfpack
Michigan Wolverines at Michigan State Spartans (-2)
Florida Gators at Georgia Bulldogs (-2.5) [Jacksonville, Florida]
Thursday, November 7
Oklahoma Sooners (-6) at Baylor Bears
Oregon Ducks (-4) at Stanford Cardinal p>
Friday, November 8
Louisville Cardinals (-10) at Connecticut Huskies
Saturday, November 9
Nebraska Cornhuskers at Michigan Wolverines (-3.5)
BYU Cougars at Wisconsin Badgers (-5.5)
LSU Tigers at Alabama Crimson Tide (-12)
Thursday, November 14
Georgia Tech Yellow Jackets at Clemson Tigers (-13)
Friday, November 15
Washington Huskies at UCLA Bruins (-4)
Saturday, November 16
Florida Gators at South Carolina Gamecocks (-3.5)
TCU Horned Frogs (-2.5) at Kansas State Wildcats
Michigan State Spartans at Nebraska Cornhuskers (-5.5)
Michigan Wolverines (-3) at Northwestern Wildcats
Oklahoma State Cowboys at Texas Longhorns (-4.5)
Stanford Cardinal (-1) at USC Trojans
Thursday, November 21
UNLV Rebels at Air Force Falcons (-9)
Friday, November 22
Navy Midshipmen at San Jose State Spartans (-7.5)
Saturday, November 23
Nebraska Cornhuskers (-3) at Penn State Nittany Lions
Vanderbilt Commodores at Tennessee Volunteers (-1)
Oklahoma Sooners (-6.5) at Kansas State Wildcats
Michigan State Spartans (-1) at Northwestern Wildcats
Texas A&M Aggies at LSU Tigers (-2.5)
Oregon Ducks (-13.5) at Arizona Wildcats
Washington Cougars at Oregon State Beavers (-5)
Arizona State Sun Devils at UCLA Bruins (-1)
BYU Cougars at Notre Dame Fighting Irish (-8)
Thursday, November 28
Ole Miss Rebels (-4) at Mississippi State Bulldgos
Texas Tech Red Raiders at Texas Longhorns (-16.5)
Friday, November 29
Washington State Cougars at Washington Huskies (-14)
Oregon State Beavers at Oregon Ducks (-16.5)
Saturday, November 30
Georgia Bulldogs (-10) at Georgia Tech Yellow Jackets
Virginia Tech Hokies (-8.5) at Virginia Cavaliers
Ohio State Buckeyes (-3) at Michigan Wolverines
Florida State Seminoles at Florida Gators (-3)
Clemson Tigers at South Carolina Gamecocks (-4.5)
Kansas State Wildcats (-14.5) at Kansas Jayhawks
Texas A&M Aggies (-8.5) at Missouri Tigers
Alabama Crimson Tide (-21.5) at Auburn Tigers
Baylor Bears at TCU Horned Frogs (-8)
Arizona Wildcats at Arizona State Sun Devils (-7)
UCLA Bruins at USC Trojans (-7)
Notre Dame Fighting Irish at Stanford Cardinal (-7)
Thursday, December 5
Louisville Cardinals (-3.5) at Cincinnati Bearcats
Saturday, December 7
Oklahoma Sooners at Oklahoma State Cowboys (-3)
Texas Longhorns (-6.5) at Baylor Bears
Saturday, December 14
Navy Midshipmen (-7.5) at Army Black Knights
EARLY LEANS
Alabama (-6.5) at Texas A&M [9/14]
Georgia (-2.5) vs. Florida [11/2 in Jacksonville, Florida]
Ohio State (-3) at Michigan [11/30]
Florida State (+3) at Florida (11/30]
UCLA (+7) at USC [11/30]
Louisville (-3.5) at Cincinnati [12/5]
2013 LVH CONFERENCE CHAMPIONSHIP ODDS
*All championship games must be played within eight days of scheduled date for action
ACC
Florida State Seminoles: 5/4
Clemson Tigers: 2/1
Virginia Tech Hokes: 6/1
Miami Hurricanes: 6/1
North Carolina Tar Heels: 10/1
Georgia Tech Yellow Jackets: 18/1
Pittsburgh Panthers: 40/1
North Carolina State Wolfpack: 50/1
Maryland Terrapins: 50/1
Virginia Cavaliers: 50/1
Duke Blue Devils: 60/1
Syracuse Orange: 60/1
Boston College Eagles: 100/1
Wake Forest Demon Deacons: 100/1
BIG 10
Ohio State Buckeyes: 4/5
Michigan Wolverines: 9/2
Nebraska Cornhuskers: 9/2
Michigan State Spartans: 5/1
Wisconsin Badgers: 9/1
Northwestern Wildcats: 12/1
Iowa Hawkeyes: 40/1
Indiana Hoosiers: 50/1
Minnesota Golden Gophers: 50/1
Purdue Boilermakers: 100/1
Illinois Fighting Illini: 100/1
Penn State Nittany Lions: XXX
CONFERENCE USA
Tulsa Golden Hurricane: 3/2
Marshall Thundering Herd: 3/1
East Carolina Pirates: 3/1
Rice Owls: 10/1
Southern Mississippi Golden Eagles: 12/1
Louisiana Tech Bulldogs: 18/1
North Texas Mean Green: 18/1
Middle Tennessee State Blue Raiders: 18/1
UTEP Miners: 40/1
UAB Blazers: 40/1
Florida Atlantic Owls: 50/1
Florida International Panthers: 50/1
Tulane Green Wave: 50/1
UTSA Roadrunners: 75/1
MAC
Northern Illinois Huskies: 3/2
Bowling Green Falcons: 11/4
Ohio Bobcats: 5/1
Toledo Rockets: 6/1
Ball State Cardinals: 7/1
Buffalo Bulls: 15/1
Western Michigan Broncos: 15/1
Kent State Golden Flashes: 25/1
Central Michigan Chippewas: 40/1
Akron Zips: 50/1
Miami Redhawks: 60/1
Eastern Michigan Eagles: 60/1
UMASS Minutemen: 100/1
MOUNTAIN WEST
Boise State Broncos: 6/5
Fresno State Bulldogs: 8/5
Utah State Aggies: 7/1
San Jose State Spartans: 7/1
San Diego State Aztecs: 10/1
Nevada Wolf Pack: 20/1
Air Force Falcons: 30/1
Wyoming Cowboys: 40/1
Colorado State Rams: 50/1
Hawaii Warriors: 50/1
New Mexico Lobos: 100/1
UNLV Rebels: 100/1
PAC 12
Oregon Ducks: 10/11
Stanford Cardinal: 5/2
USC Trojans: 9/2
Arizona State Sun Devils: 8/1
Oregon State Beavers: 20/1
UCLA Bruins: 20/1
Washington Huskies: 20/1
Arizona Wildcats: 20/1
Utah Utes: 40/1
Washington State Cougars: 100/1
California Golden Bears: 100/1
Colorado Buffaloes: 100/1
SEC
Alabama Crimson Tide: 10/11
Georgia Bulldogs: 4/1
Texas A&M Aggies: 6/1
South Carolina Gamecocks: 6/1
Florida Gators: 8/1
LSU Tigers: 8/1
Ole Miss Rebels: 25/1
Missouri Tigers: 50/1
Vanderbilt Commodores: 60/1
Auburn Tigers: 60/1
Tennessee Volunteers: 60/1
Mississippi State Bulldogs: 75/1
Arkansas Razorbacks: 100/1
Kentucky Wildcats: 500/1
Hit me up on Twitter: @JoeFortenbaugh