August 02, 2011 -
Joe Fortenbaugh
Chad Henne gets booed at practice
The heat that quarterback Chad Henne is feeling in Miami right now has nothing to do with the blazing-hot South Florida sun.
After a few missteps during a Monday night scrimmage at Sun Life Stadium, Henne was booed by the 10,000+ fans in attendance.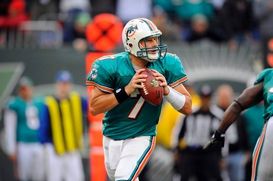 ICONChad Henne is feeling the heat in Miami.
Then, it got worse.
According to Omar Kelly of the South Florida Sun-Sentinel, after a pass intended for tight end Anthony Fasano was broken up by linebacker Jonathan Freeny, the crowd started chanting, "We want Kyle Orton."
There's no question Henne realizes he's on the hot seat in Miami. After three seasons with the Fish, the former Michigan Wolverine is just 13-14 as a starter and has thrown more interceptions (31) than touchdown passes (26).
To make matters worse, the Miami front office didn't do the 26-year-old quarterback any favors by letting the public know they were in the market for Denver Broncos quarterback Kyle Orton, only to come up short in trade talks.
Henne needs to come up big for the Dolphins and he needs to do it quickly. Otherwise, the next time he hears anybody chanting, it will be from his spot at the end of the Miami bench.
Hit me up on Twitter: @JoeFortenbaugh