August 04, 2011 -
Barry Dorey
Chad Henne: "I'm human"
It's rarely a good thing when a team repeatedly makes headlines due to a variety of issues at the quarterback position.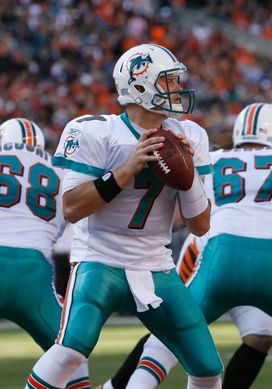 ICONKnocking off the Patriots in Week 1 would buy Henne some breathing room in South Florida.
First, we had the rumors that Miami was trying to trade for Broncos quarterback Kyle Orton. When that fell through, Dolphins fans began to boo current signal-caller Chad Henne during practice.
Now, the Fish are back in the news because Henne has chosen to respond to the fans who don't seem to be too fond of what he brings to the table.
Omar Kelly of the South Florida Sun-Sentinel has tweeted a collection of quotes made by the 26-year-old Dolphins quarterback Thursday morning in response to the "We want Orton" chants that rained down at Sun Life Stadium on Monday night.
"I'm human," Henne told Kelly. "Deep down inside it does hurt. It's tough to be a quarterback. You want the respect of your fans. You want them to have your back. But obviously if I'm doing bad they will critique me."
Henne's in a tough spot and it's unlikely that life will get any easier over the next month.
But if he wants to get the fans off his back, beating the Patriots on Monday night in Week 1 would be a great place to start.
Hit me up on Twitter: @JoeFortenbaugh