January 15, 2013 -
Joe Fortenbaugh
Championship game early action report
After watching the four favorites dominate the action during the Wild Card round of the playoffs, the sports books here in Las Vegas got off to a hot start this past Saturday when the ultra-popular Denver Broncos failed to cover both the number and the 6-point teaser line in their upset loss to the Ravens.
Through eight postseason games, overs are now 4-4 after a 4-0 Divisional Round weekend while the favorites boast a 6-2 mark against the number. How will the betting public respond this week? While there has been little to no movement for the Ravens-Patriots clash in Foxborough, the same cannot be said about the NFC Championship where the money has been pouring in on San Francisco.
CURRENT SUPER BOWL ODDS (courtesy of LVH)
New England Patriots: Even
San Francisco 49ers: 2/1
Atlanta Falcons: 6/1
Baltimore Ravens: 8/1
Thoughts: Take the Falcons at 6/1, the Ravens at 8/1 and hope one of these two teams advances to the Super Bowl for a chance to hedge your bets and lock in a profit. If both teams fall short on Sunday, the upside is that you'll have hundreds of Super Bowl prop bets to choose from in an attempt to make your money back!
EARLY SUPER BOWL LINES (from 5Dimes, courtesy of our friends at Beyond the Bets.com)
San Francisco 49ers -3.5 vs. Baltimore Ravens
New England Patriots -2 vs. San Francisco 49ers
Atlanta Falcons -1.5 vs. Baltimore Ravens
New England Patriots -6 vs. Atlanta Falcons
Thoughts: If you think the Patriots and 49ers end up meeting in New Orleans and plan on siding with San Francisco in that matchup, you can head over to the LVH here in Las Vegas and bet the NFC +3 over the AFC.
CLICK HERE to check out all of the current lines.
SAN FRANCISCO 49ERS (13-4, 6-3 road) at ATLANTA FALCONS (14-3, 8-1 home)
When: Sunday, 3:00pm ET
Open: San Francisco -3/47
Current: San Francisco -4.5/49
Alternate lines: San Francisco -4 (-120) at the MGM.
Weather: Indoors
Analysis: At +4.5, the Atlanta Falcons are the biggest home underdog of any No. 1 seed since the playoffs expanded to ten teams in 1978. So why are the Falcons getting so little love? For starters, let's look at the public's perception of these two teams. San Francisco was a preseason Super Bowl favorite that has only gotten more enticing to bet since x-factor Colin Kaepernick's arrival on offense. Meanwhile, despite the fact that Atlanta controlled much of their game against Seattle on Sunday, some of us still have that feeling in our stomachs that the Seahawks deserved to win. The 49ers blow out Green Bay, Atlanta squeaks past Seattle and the first thing that enters the minds of many is that San Francisco is headed to the Super Bowl.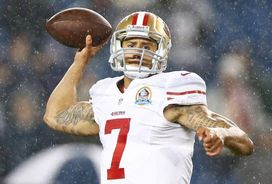 Will the Atlanta defense be able to slow down Colin Kaepernick?
From a betting perspective, it's important to note that Atlanta is 0-5 ATS over their last five playoff games while San Francisco is 19-7-1 ATS over their last 27 games after amassing more than 350 total yards in the previous contest. It's also imperative to analyze the coaching matchup for this showdown. Mike Smith made several critical errors against Seattle (failing to go for two, the onside kick with less than ten seconds remaining), while his opponent is the guy who took a huge gamble rolling with Kaepernick over veteran Alex Smith. The coaching edge goes to Harbaugh, the defensive edge rests with San Francisco and when you break down the quarterback matchup, it isn't easy to say that Matt Ryan will cause more headaches for San Fran than Kaepernick will for Atlanta.
Take note: One of the popular stats that is making its way around the internet this week is the fact that San Francisco went 1-2 both straight-up and against the spread in dome games this season. But that information hasn't come close to preventing the early money from pouring in on Harbaugh's 49ers.
Trends: San Francisco is 24-11-1 ATS in their last 36 games overall while Atlanta is 6-2-2 ATS in their last ten games following an ATS loss.
Early betting thoughts: Grabbed San Francisco -3.5 on Monday, would also consider teasing Atlanta from +4.5 to +10.5.
BALTIMORE RAVENS (12-6, 5-4 road) at NEW ENGLAND PATRIOTS (13-4, 7-2 home)
When: Sunday, 6:30pm ET
Open: New England -9/51
Current: New England -9/51.5
Alternate lines: New England -9.5 (-105) at the MGM.
Weather: 30 degrees, 20% chance of precipitation, winds out of the west at 16 mph.
Analysis: The good news for New England fans is that Tom Brady is 5-2 against the Ravens during his 13-year NFL career. The bad news is that in those seven games, Brady is completing just 58.6% of his passes with only seven touchdowns, eight interceptions and a QB rating of 74.1. Those aren't the numbers we're accustomed to seeing when discussing one of the greatest signal-callers to ever play the game.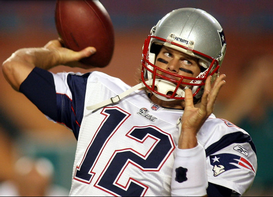 For as great as he's been during his career, Tom Brady has struggled at times against the Ravens.
I wasn't impressed with Baltimore's playoff win over Indianapolis and feel that if it wasn't for a terribly coached game by John Fox, the Ravens would have come up short at Denver on Sunday. But the bottom line is that Joe Flacco is making plays and the Ravens are winning football games. Baltimore is 6-2 ATS over their last eight games after surrendering more than 30 points in the previous contest while New England is 2-7 ATS over their last nine home playoff games.
Baltimore and New England have played each other six times since 2007, with five of those games being decided by six or fewer points and four of those games being decided by three or fewer points. These two play each other close and with tight end Rob Gronkowski out of action once again for the Pats, it's tough to consider laying the lumber with New England.
Take note: This line hasn't seen much movement since hitting the board on Sunday evening. We have a feeling that if the number finds its way to New England -10, the Baltimore money will start to flow.
Trends: Baltimore is 10-4 ATS over their last 14 road playoff games while New England is 2-8 ATS over their last ten playoff games.
Early betting thoughts: Baltimore +9.5 and Baltimore in a 6-point teaser.
Hit me up on Twitter: @JoeFortenbaugh