February 15, 2013 -
Joe Fortenbaugh
Chiefs interested in Foles, Eagles not interested in dealing
Andy Reid, the Philadelphia Eagles, the possibility of trading a quarterback. Stop us if you've heard this one before.
A report from Mike Garafolo of USA Today surfaced Thursday evening indicating that new Kansas City Chiefs head coach Andy Reid is interested in trading for Philadelphia Eagles quarterback Nick Foles. Such a transaction would land Foles back in Reid's system, where he went 1-5 as a starter in Philadelphia last year before Reid was sent packing.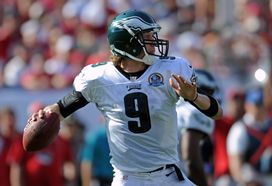 US PRESSWIREWill the Chiefs make an offer that "blows Philly away?"
The speculation of "will they or won't they" didn't last very long, as CSNPhilly.com reported late Thursday evening/early Friday morning that the Eagles have no plans to trade the second-year signal-caller unless they are "blown away with an offer."
Perhaps such as the deal that went down in 2011 when the Birds shipped quarterback Kevin Kolb to Arizona in a fleece job that netted Philadelphia cornerback Dominique Rodgers-Cromartie and a 2012 second-round draft pick.
At the moment, Philadelphia and new head coach Chip Kelly have four quarterbacks on the roster: Michael Vick, Nick Foles, Dennis Dixon—who signed a two-year deal on Thursday—and Trent Edwards. Our opinion is that if the Eagles were convinced Foles was the man for the job in Kelly's system, they wouldn't have gone out and acquired Dixon just after working out a restructured contract to keep Michael Vick.
Further, Andy Reid was a member of the Philadelphia organization just over one month ago and would have insight as to how Foles is viewed amongst the team's front office. Had owner Jeffery Lurie and general manager Howie Roseman been enamored with Foles last season, Reid would know and therefore probably wouldn't bother trying to swing a deal.
Which means that if the Eagles are interested in trading Foles, they first need to convince the world that they aren't interested in trading him.
Hit me up on Twitter: @JoeFortenbaugh