August 02, 2013 -
Joe Fortenbaugh
Chip Kelly's first big test
Eagles head coach Chip Kelly had September 9 circled on the calendar indicating his first big test in the National Football League. But Philadelphia's Week 1 Monday night showdown with division rival Washington will have to wait, as Kelly now finds himself presiding over a fractured locker room on the precipice of combustion due to the recent remarks made by fourth-year wide receiver Riley Cooper.
Kelly's first NFL training camp lasted exactly nine days before the second of two roster-crippling incidents landed on his front doorstep in a flaming brown paper bag. As if losing wide receiver Jeremy Maclin to a torn right ACL suffered during last Saturday's practice wasn't an ominous enough commencement to the Kelly era in Philadelphia, Wednesday brought the news that Cooper made an extremely insensitive and highly offensive racial remark while intoxicated at a recent Kenny Chesney concert.
The reaction to Cooper's remark within the Philadelphia locker room has been a mixed one, to say the least. Quarterback Michael Vick and wideout Jason Avant were quick to forgive, while running back LeSean McCoy stated to the NFL Network's Albert Breer that he "can't respect a guy like that." Jeff McLane of the Philadelphia Inquirer has anonymous quotes from other members of the team who side more with McCoy than they do Vick and Avant.
Kelly, who has yet to even coach his first NFL preseason game, now has a difficult decision on his hands. Does the former Oregon boss cut Cooper loose in an effort to keep peace and harmony within the locker room, or does he try to resolve the situation without losing another wide receiver?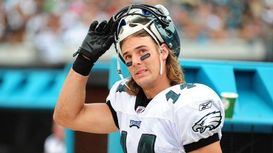 Cooper's remarks have triggered a firestorm in Philadelphia.
Had Maclin—the team's leading receiver in 2012 (69 receptions) who accounted for 15.1% of Philadelphia's total yardage last season—not gone down for the year with a knee injury, Kelly's decision may be a bit easier. After all, Cooper would be nothing more than a backup pass-catcher who has amassed just 46 receptions in 40 career games with a healthy Maclin on the roster.
But Maclin's injury has opened the door for Cooper to join the starting ranks in Philadelphia this season, making Kelly's decision that much more difficult. Dropping Cooper would dilute an already thin wide receiving unit that hasn't had a 1,000-yard season from DeSean Jackson since 2010.
But it would put an end to any dissension within the locker room caused by Cooper's insensitive remarks. The Eagles would simply adhere to the popular phrase, "Next man up," and business would resume as it was prior to Wednesday's report, with the locker room taking notice that such actions will not be tolerated in Philadelphia with Chip Kelly running the show.
Keeping Cooper could help from a personnel perspective, but there's no guarantee. The 26-year-old out of Florida has scored just five touchdowns in three seasons and has caught more than four passes in a game only three times in 40 appearances. If Cooper stays and fails to produce, the grumbling within the locker room will only grow louder. Players of similar or greater historical production than Cooper may even feel that they can get away with a bit more off the field given that Cooper wasn't canned following his national indiscretion.
While looking for the answer, Chip Kelly should ask himself this: If Jeremy Maclin was still healthy, would the Philly head coach cut or keep Cooper?
Asking that question takes the personnel perspective out of the equation while putting Cooper's actions at the forefront. And if the answer would be to cut Cooper, then the Eagles simply look for another receiver to step up and fill the void left by Maclin. No locker room factions, no grumbling.
Nobody said this job would be easy. Chip Kelly found that out in a hurry and he's still more than a month away from coaching his first NFL regular season game.
Hit me up on Twitter: @JoeFortenbaugh