August 09, 2011 -
Joe Fortenbaugh
Chris Johnson fails to report
The standoff between Chris Johnson and the Tennessee Titans has reached the next level.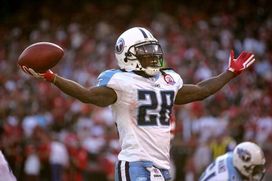 Will the Titans give Chris Johnson a new contract?
ESPN is reporting that the Pro Bowl running back failed to report to training camp on Tuesday, which means Johnson has now lost a year towards unrestricted free agency, per the rules of the new collective bargaining agreement.
In essence, Johnson will now enter the 2012 season with three years of service under his belt instead of four, even if he plays for the Titans in 2011.
The 25-year-old dual-threat back has made it clear to the Titans that he has no intention of reporting to camp until the team signs him to a long-term contract extension, presumably for something in the neighborhood of what DeAngelo Williams received at the start of free agency.
But here's the rub: the Titans have said they won't negotiate with Johnson until he shows up to camp.
It will be interesting to see which side makes the next move in this standoff. Johnson has clearly outperformed his rookie contract, but with two years left on the deal, do the Titans really need to give him an extension now?
Hit me up on Twitter: @JoeFortenbaugh