September 07, 2012 -
Joe Fortenbaugh
College football betting primer
Let's keep one thing in mind before we get to this weekend's analysis: No matter how you did last weekend, it was only one week. And as many of you are already aware, the first three weeks of the football season can be some of the most unpredictable you will face the entire year. Stay disciplined, don't chase and always try to beat the closing number.
Last week: 6-2
Season: 6-2
But before we begin, I wanted to share with you all an interesting trend that was unearthed by our friend Marc Lawrence from Playbook.com. Stay with me here, because this one goes deep. Here's what we're looking for:
1. Teams that won five or fewer games last season AND
2. Have a new head coach AND
3. Are double-digit underdogs in Week 2 AND
4. Are playing against a team coming off a straight-up win.
This scenario has played out 46 times since 1990, with the team fitting the above criteria going 12-34 (.261) against the spread. And guess what? There are four games on the Saturday slate that fit this scenario!
Note: Teams listed in caps are who we should play AGAINST
ARIZONA vs. Oklahoma State (-10.5)
FRESNO STATE at Oregon (-34.5)
UMASS vs. Indiana (-14)
NEW MEXICO at Texas (-38)
I'm not saying you should jump on board with all four of these plays. But I think this trend is definitely worth monitoring.
Let's get to it…
CLICK HERE for all your college football lines.
Purdue Boilermakers (1-0) at #22 Notre Dame Fighting Irish (1-0)
When: Saturday, 3:30pm ET
Open: ND -14
Current: ND -14.5
Analysis: Ever take a flight the distance of Dublin to Indiana? If so, how did you feel the next day? What about two days later? The point is that it isn't easy to get your body back on schedule after an extraordinarily long flight. And that's exactly what the Irish have to contend with this week, along with a 1-0 Purdue team that put a 48-6 whooping on Eastern Kentucky last Saturday. It wasn't the least bit surprising to see Notre Dame throw Navy a beat down after having a month to prepare for the Midshipmen's option attack. But covering two touchdowns against Purdue with six days to prepare coming off an international flight?
Take note: The road team is 6-2 ATS in the last eight meetings between these two schools.
Pick: Purdue (+14.5)
Fresno State Bulldogs (1-0) at #4 Oregon Ducks (1-0)
When: Saturday, 6:30pm ET
Open: O/U 73.5
Current: O/U 76.5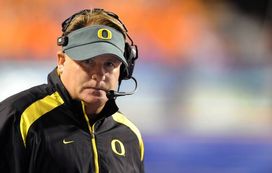 Chip Kelly's Oregon Ducks have scored at an alarming rate in home games.
Analysis: It took the Ducks a grand total of just under 23 minutes to hang 50 points on Arkansas State in last week's season opener. I can't even boil a pot of noodles in 23 minutes. Since Chip Kelly took the reigns in Eugene, the Ducks are averaging an explosive 49.4 points per home game with that number jumping to 53.1 pts/gm in home contests played over the last two years. Don't expect the Oregon backups to make as early an appearance this week as they did last, as a 1-0 Fresno State team that hung 37 points of their own last week comes to town.
Take note: The over is 7-1 in Fresno State's last eight games against the Pac-12 while the over is 23-5-1 in Oregon's last 29 home games.
Pick: Over (76.5)
University of Central Florida Knights (1-0) at #14 Ohio State Buckeyes (1-0)
When: Saturday, 12:00pm ET
Open: OSU -17
Current: OSU -18
Analysis: Credit our friends at Beyond the Bets.com for this one: Ohio State head coach Urban Meyer is a career 35-7 against the spread in non-conference games. You show me a trend that hits at 83% and I'll show you a guy who plans on firing.
Take note: UCF is 1-4 ATS in their last five games against the Big Ten while Ohio State is 12-3 ATS in their last 15 non-conference games.
Pick: Ohio State (-18)
Maryland Terrapins (1-0) at Temple Owls (1-0)
When: Saturday, 12:00pm ET
Open: Temple -10
Current: Temple -10
Analysis: Anybody see that 7-6 ass-kicking Maryland put on William & Mary last weekend? Me neither, but I heard about it. I also heard about a VERY strong trend that supports Temple in this situation, but I was sworn to secrecy that I wouldn't let the cat out of the bag. Stop booing. Most of you are skipping the analysis for the picks, anyway.
Take note: Maryland is 1-11 ATS in their last 12 games overall while Temple is 14-3 ATS in their last 17 September games.
Pick: Temple (-10)
DOUBLE WHAMMY!
#7 Georgia Bulldogs (1-0) at Missouri Tigers (1-0)
#24 Florida Gators (1-0) at Texas A&M Aggies (0-0)
When: Saturday, 7:45pm ET and 3:30pm ET, respectively
Open: Georgia -3 and Florida -1
Current: Georgia -2 and Texas A&M -1
Analysis: Welcome to the SEC.
Take note: Missouri is 1-4 ATS in their last five games coming off a straight-up win while Texas A&M is 0-7-1 in their last eight games against non-conference opponents.
Pick(s): Georgia (-2) and Florida (+1)
Louisiana Tech Bulldogs (0-0) at Houston Cougars (0-1)
When: Saturday, 8:00pm ET
Open: Houston -2.5
Current: LA Tech -3
Analysis: Let's recap Houston's week, shall we? First, the Cougars got rolled 30-13 at home by a Texas State team that I didn't even know existed. Following that little mishap, offensive coordinator Mike Nesbitt resigned his position. So it shouldn't come as a surprise that money has poured in on an LA Tech team that went 8-5 last year and lost by only seven points to TCU in their bowl game.
Take note: LA Tech is 13-3 ATS in their last 16 road games while Houston is 1-4 ATS in their last five games after scoring fewer than 20 points in the previous contest.
Pick: Louisiana Tech (-3)
Hit me up on Twitter: @JoeFortenbaugh