June 12, 2011 -
Joe Fortenbaugh
College football season is open!
Remember that sensation that used to wash over your prepubescent body as a child during magical times of the year like Christmas morning and the last day of school?
You know the feeling I'm talking about.
It was that overwhelming sense of excitement that accompanied the final moments of waiting before you tore into your first present or bolted out the teacher's door to begin your summer vacation. As children, those were the times when any semblance of reason or patience were abandoned in favor of a relentless devotion towards trying to somehow make the clock tick faster.
As adults, that sensation still rears its head from time to time, but it manifests itself in different ways. The birth of a child has become the new Christmas morning. Hearing the pilot announce that you'll be landing at McCarran International Airport in 15 minutes is the new last day of school.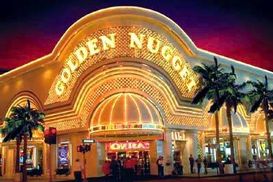 The Golden Nugget got things started Friday afternoon with their release of over 100 college football lines.
For professional sports bettors, Friday afternoon at the Golden Nugget sportsbook in Las Vegas offered up one of those moments, as the first college football point spreads of the year were made available to the hungry masses.
Sharps and squares alike lined up for the right to make $1,000 max bets on their choice of 100+ college football games that aren't available anywhere else in the world. For professional sports handicappers, Friday marked the start of football season.
The beauty of following what shook down at 129 East Fremont Street on Friday is that regular schmucks like myself can get an idea of which college football teams the sharps like by tracking the line movements.
For example, the Oregon Ducks opened up as 3-point favorites over LSU for their September 3rd showdown at Cowboys Stadium in Dallas. But the Nugget quickly adjusted the line to -2, meaning the sharps felt the early value lied with the Tigers.
To gain some insight into some of the best value that was made available at the Golden Nugget, I spoke with three longtime sports handicappers Friday afternoon who were kind enough to share their thoughts on some of the marquee college football games of the year.
Handicapper: Steve Fezzik
Quick Bio: The only back-to-back winner in the history of the Las Vegas Hilton SuperContest (NFL handicapping contest).
Website: LVASports.com
Twitter: @FezzikSports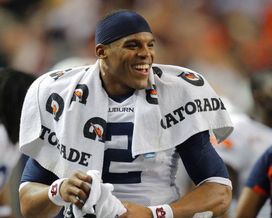 ICONWith no Cam Newton, bettors faded Auburn.
Thoughts: "I bet 25 games today and focused on a number of themes. For starters, I faded Auburn, who I see as being WAY down. Right now, the Tigers are +8 for the Alabama game and I see that going to +14 in four months. In addition, the Golden Nugget likes Michigan this year, but I don't see it. I faded Michigan, taking Northwestern +3.5. I also slammed in a few bets on Georgia +5 vs. Boise State in the Hotlanta Dome. I see the cross-country trip and home field giving me value on a game that should be similar to the coin flip at Fedex last year in DC, where Boise got by Virginia Tech."
Handicapper: Teddy Sevransky (aka Teddy Covers)
Quick Bio: Has been handicapping in Las Vegas since 1998, has a Top 10 in the famed Hilton NFL SuperContest and won the Vegas Sportswire Invitational Football Contest.
Website: Covers.com
Twitter: @Teddy_Covers
Piece of advice: "Trust your gut. Don't think for one minute that all of those lines are 100% accurate and that they're [the Golden Nugget] right and you're wrong. In addition, there's always a lot of respect paid to teams that return a high number of starters. Be advised that the books have already factored that into the point spread and that it's not as viable of a betting trend now like it was five or ten years ago."
What stood out on Friday: "I thought that the Nugget oddsmakers didn't give Notre Dame enough credit. We straightened that out pretty quick."
Editor's note: Teddy is referring to the fact that Notre Dame opened at +2 for their September 10th showdown at Michigan and by the time the sharps got done betting the game, the line had moved all the way to Notre Dame -3.
Handicapper: Marc Lawrence
Quick Bio: Won the 2008 Playbook Football Wise Guys Contest and had the No.1 ranking in NFL Win Percentage in 2008 (by SPORTS WATCH in Las Vegas).
Website: Covers.com
Twitter: @sportscapper
Three games that stood out:
September 3, 2011: Georgia (+6) over Boise State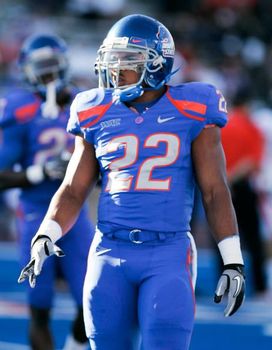 ICONDoug Martin and the Broncos take on Georgia in their opener.
The Bulldogs were one of only three teams in college football last year to improve their stats offensively and defensively, yet slip both straight up and against the spread. Teams that fit this mantra are 'play on' teams the next season as they almost always improve their straight up and against the spread numbers.
October 28, 2011: BYU (+7) over TCU
The Cougars are loaded with 19 returning starters from a team that closed like a racehorse last season when they went 5-1 SU and ATS in their final six games of the season. Now a hungry Independent and looking to avenge three 25+-point defeats to the Frogs the last three seasons, insures a maximum effort.
November 26, 2011: Northwestern (+3.5) over Michigan State
The feeling here is that the Wildcats will be a major player in the Big-Ten this season. A veteran team with 44 upperclassmen and a school-record 56 lettermen are back. So is All-Big-Ten first-team QB Dan Persa after missing the final two games of the season with an Achilles injury. The Wildcats benefit from not having Ohio State and Wisconsin on this year's slate and head coach Pat Fitzgerald's squad bought into a rigorous off-season conditioning program. It figures to show in the late stages of this year's campaign.
Hit me up on Twitter: @JoeFortenbaugh