July 09, 2012 -
Joe Fortenbaugh
College football season win totals are out
Can you smell it?
No, I'm not talking about the copious amounts of good old fashioned American beef that has been pounding your respective grills like Rocky Balboa hammered that slab of meat while training for Apollo Creed. I'm talking about football season. In between the pool parties and summer vacations, the calendar has silently made its way into the red zone.
The kickoff to the 2012 college football season is right around the corner.
As a result, the boys at Cantor Gaming here in Las Vegas released season win totals for 54 college football programs last Friday.
But before we jump into some of the numbers, I wanted to give you guys a heads up that registration is now open for the Las Vegas Hotel & Casino's annual (and legendary) NFL SuperContest. For the uninitiated, participants pick five NFL games each week (no totals, just sides). Whoever wins the most games over the course of the 17-week season takes down the grand prize, which hit a tasty $310,200 last year (entry fee is $1,500).
You have to register in person at LVH, but can hire a proxy to submit your picks each week. I know plenty of good proxy services, so if you have any questions, feel free to hit me up on twitter: @JoeFortenbaugh.
Back to business…
TENNESSEE VOLUNTEERS
Over: 7.5 (+130)
Under: 7.5 (-160)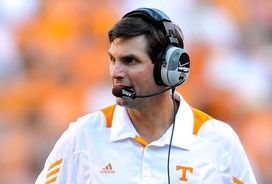 Are Derek Dooley's Volunteers poised for a breakout season?
Analysis: The Vols have gone just 11-14 in two seasons under head coach Derek Dooley, but there have been whispers all over town that this could be one of the surprise teams of the 2012 campaign. Dooley has 19 starters returning and benefits from a schedule that doesn't include games against SEC powerhouses LSU and Arkansas, whom the Vols had to play last year. If Tennessee can upset Florida in Knoxville on September 15, these guys could get out to a 4-0 start.
USC TROJANS
Over: 10.5 (+105)
Under: 10.5 (-135)
Analysis: Preseason Heisman Trophy frontrunner Matt Barkley opted to forego a shot at the pros for a chance to win a national title, which has many in the industry thinking that the Men of Troy just might have what it takes to knock the SEC from its championship perch. Wide receiver Robert Woods gives Barkley the big play receiver he'll need to slice and dice opposing PAC-12 secondaries and don't sleep on the USC defense, which returns seven starters from a year ago. Want another reason to back the over? The Oregon and Notre Dame games both take place in Los Angeles this season.
FLORIDA STATE SEMINOLES
Over: 10.5 (+175)
Under: 10.5 (-210)
Analysis: The Seminoles haven't posted an 11-win season since 2000, but there's a reason this team is currently 12-1 to win the National Championship. 17 starters are coming back (nine on defense), as is quarterback E.J. Manuel, who hasn't thrown an interception in his last 121 attempts. The Clemson and Florida games will take place in Tallahassee, but the 'Noles have to hit the road on November 8 for a big-time showdown with Virginia Tech. With 12 games on the schedule there isn't much room for error here, which is why the under is heavily juiced.
The rest (h/t our friends at Beyond The Bets.com)…
ALABAMA CRIMSON TIDE
Over 10.5 (+135) Under 10.5 (-165)
ARIZONA STATE SUN DEVILS
Over 5.5 (+120) Under 5.5 (-150)
ARKANSAS RAZORBACKS
Over 8.5 (-170) Under 8.5 (+140)
AUBURN TIGERS
Over 7.5 (+110) Under 7.5 (-140)
BOISE STATE BRONCOS
Over 9.5 (-110) Under 9.5 (-120)
BYU COUGARS
Over 8.5 (+115) Under 8.5 (-145)
CALIFORNIA GOLDEN BEARS
Over 6.5 (-135) Under 6.5 (+105)
CINCINNATI BEARCATS
Over 7.5 (+130) Under 7.5 (-160)
CLEMSON TIGERS
Over 8.5 (-140) Under 8.5 (+110)
DUKE BLUE DEVILS
Over 3.5 (-170) Under 3.5 (+140)
FLORIDA GATORS
Over 7.5 (-170) Under 7.5 (+140)
GEORGIA TECH YELLOW JACKETS Over 7.5 (-125) Under 7.5 (-105)
ILLINOIS FIGHTING ILLINI
Over 6.5 (-120) Under 6.5 (-110)
IOWA HAWKEYES
Over 7.5 (+110) Under 7.5 (-140)
KANSAS STATE WILDCATS
Over 7.5 (+105) Under 7.5 (-135)
KENTUCKY WILDCATS
Over 4.5 (even) Under 4.5 (-130)
LOUISVILLE CARDINALS
Over 8.5 (-140) Under 8.5 (+110)
LSU TIGERS
Over 10.5 (+145) Under 10.5 (-175)
MIAMI HURRICANES
Over 6.5 (-125) Under 6.5 (-105)
MICHIGAN WOLVERINES
Over 8.5 (-160) Under 8.5 (+130)
MICHIGAN STATE SPARTANS
Over 8.5 (-140) Under 8.5 (+110)
MISSISSIPPI STATE BULLDOGS
Over 7.5 (-105) Under 7.5 (-125)
MISSOURI TIGERS
Over 7.5 (+130) Under 7.5 (-160)
NAVY MIDSHIPMEN
Over 7.5 (+120) Under 7.5 (-150)
NC STATE WOLFPACK
Over 7.5 (-110) Under 7.5 (-120)
NEBRASKA CORNHUSKERS
Over 8.5 (-125) Under 8.5 (-105)
NEVADA WOLFPACK
Over 8.5 (+130) Under 8.5 (-160)
NORTH CAROLINA TAR HEELS
Over 7.5 (-130) Under 7.5 (even)
NOTRE DAME FIGHTING IRISH
Over 8.5 (+145) Under 8.5 (-175)
OHIO STATE BUCKEYES
Over 8.5 (-180) Under 8.5 (+150)
OKLAHOMA SOONERS
Over 9.5 (-190) Under 9.5 (+160)
OKLAHOMA STATE COWBOYS
Over 8.5 (+130) Under 8.5 (-160)
OLE MISS REBELS
Over 3.5 (-160) Under 3.5 (+130)
OREGON DUCKS
Over 10.5 (+135) Under 10.5 (-165)
PENN STATE NITTANY LIONS
Over 6.5 (-150) Under 6.5 (+120)
PITTSBURGH PANTHERS
Over 7.5 (+120) Under 7.5 (-150)
RUTGERS SCARLET KNIGHTS
Over 7.5 (+120) Under 7.5 (-150)
SOUTH CAROLINA GAMECOCKS
Over 8.5 (-130) Under 8.5 (even)
STANFORD CARDINAL
Over 7.5 (-150) Under 7.5 (+120)
TCU HORNED FROGS
Over 8.5 (+115) Under 8.5 (-145)
TEXAS LONGHORNS
Over 8.5 (-160) Under 8.5 (+130)
TEXAS A&M AGGIES
Over 7.5 (+145) Under 7.5 (-175)
UCLA BRUINS
Over 5.5 (-150) Under 5.5 (+120)
UNLV RUNNIN REBELS
Over 2.5 (-170) Under 2.5 (+140)
VANDERBILT COMMODORES
Over 5.5 (-165) Under 5.5 (+135)
VIRGINIA CAVALIERS
Over 6.5 (-130) Under 6.5 (even)
VIRGINIA TECH HOKIES
Over 9.5 (+120) Under 9.5 (-150)
WASHINGTON HUSKIES
Over 7.5 (+125) Under 7.5 (-155)
WASHINGTON STATE COUGARS
Over 5.5 (-125) Under 5.5 (-105)
WEST VIRGINIA MOUNTAINEERS
Over 8.5 (-160) Under 8.5 (+130)
WISCONSIN BADGERS
Over 8.5 (-160) Under 8.5 (+130)
Hit me up on Twitter: @JoeFortenbaugh