July 27, 2011 -
Barry Dorey
Colts bringing back two vets
The Colts have come to terms with two of their free agents as they attempt to earn their tenth consecutive trip to the postseason.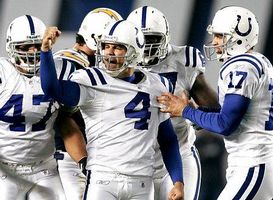 Vinatieri is coming back for his 16th professional season.
Kicker Adam Vinatieri—who will be entering his 16th professional season in 2011—reached an agreement with the team on a three-year deal, per his agent via Mike Chappell of the Indianapolis Star.
Since signing with Indianapolis back in 2006, Vinatieri ranks 12th in the NFL in field goal conversion rate (84.9%).
In addition to bringing back their kicker, the Colts also came to terms with free agent safety Melvin Bullitt on a multi-year deal, per Chappell. The 26-year-old from Texas A&M appeared in just four games last year due to a shoulder injury, but has recorded six interceptions and 163 tackles in 48 career appearances.
Will the Colts win the AFC South once again? Let us know in the NFP Forums!
Hit me up on Twitter: @JoeFortenbaugh