July 25, 2011 -
Barry Dorey
Comeback Players
The title says it all.
Here are 15 players the National Football Post expects to improve on their statistics from last season. Be advised that a few changes may occur once the free agency period takes place.
1. Larry Fitzgerald, WR, Arizona Cardinals: He finished 14th in scoring among wideouts last season, but Fitzgerald's 2010 receptions, touchdowns and fantasy points consisted of his lowest totals since 2006. Attribute the drop in production to inconsistent and below-average play from the quarterback position, which we expect to drastically improve once free agency takes place (hello, Kevin Kolb). Fitz will finish the 2011 season in the top-ten, but we're thinking he'll make a serious run at the top-five.
2. Owen Daniels, TE, Houston Texans: After posting back-to-back top-8 fantasy finishes in 2007 and 2008, Daniels dropped off the map due to a 2009 knee injury that limited him to just 19 games over the past two years. However, owners are advised to keep in mind that the 28-year-old was targeted 37 times over Houston's final four games last season while averaging a very healthy 9.5 fantasy points per outing. With Andre Johnson and Arian Foster commanding so much attention, Daniels should be free to post some solid numbers with the Texans this year.
3. Steve Smith, WR, Carolina Panthers: If Smith lands with a new team that has at least one half-decent receiver on the roster, he could wind up as the top value pick of the 2011 fantasy season. The 32-year-old's numbers have been in decline since 2008, but that can be attributed to poor quarterback play and a seriously lacking supporting cast. Should Smith get his wish and be traded to another team (San Diego, anyone?), expect his numbers to skyrocket.
4. Tony Romo, QB, Dallas Cowboys: A broken left clavicle cost Romo his season after just six games last year, but the former Pro Bowler returns in 2011 to an offense that really picked it up once Wade Phillips was dismissed. In eight games under Phillips last season, the Cowboys went 1-7 and averaged just 20.1 points per game, while in eight contests under Jason Garrett, Dallas went 5-3 and averaged 29.1 points per game. Miles Austin and Jason Witten are back and Dez Bryant is healthy. This should be a high-scoring unit.
5. Shonn Greene, RB, New York Jets: Instead of busting out and making a name for himself in 2010, Green had trouble holding onto the football, carried the rock just 185 times and scored only two touchdowns in one of the most disappointing fantasy campaigns of the season. However, with veteran running back LaDainian Tomlinson getting older, the Jets have already announced that Greene is headed for a bigger workload in 2011. If the former Hawkeye can average a conservative 4.2 yards per carry and rack up 250 rushing attempts, he'll finish with 1,050 rushing yards. And remember, that's a very conservative estimate.
6. Vincent Jackson, WR, San Diego Chargers: Two words: Contract Year. Jackson's antics limited him to just five games and 14 receptions last season and he's even rumored to have caused a delay in the NFL lockout/CBA negotiations for personal reasons. Yes, the guy is a diva with a bad attitude, but that doesn't change the fact that he still wants to get paid. With motivation and Philip Rivers at quarterback, we expect a high touchdown total from V-Jax in 2011.
7. Jahvid Best, RB, Detroit Lions: The 22-year-old from California finished his rookie season ranked 23rd in fantasy scoring at the running back position, but keep in mind that a big part of that can be attributed to a 40-point outburst that took place in Week 2 vs. Philadelphia. Rookie bruiser Mikel Leshoure is sure to steal some goal line carries, but if Best can figure out how to stay healthy in 2011, he should produce top-15 numbers. PPR owners should be even more excited about this guy, considering he caught 58 passes on 80 targets last season.
8. Sidney Rice, WR, Free Agent: Rice was limited to just six games in 2010 due to a hip injury and is now set to hit the free agent market as one of the top receivers available. Remember, this guy is just two years removed from a top-8 fantasy season that consisted of 83 receptions for 1,312 yards and eight touchdowns (all career highs). A lot of his upside/potential will depend on his new quarterback, but we believe Rice is headed for a solid bounce-back campaign.
9. DeAngelo Williams, RB, Free Agent: Remember back in 2008 when Williams scored 20 touchdowns and led all running backs in fantasy scoring? Well first off, pump the brakes, because we aren't predicting anything like that for him in 2011. However, Williams is one of the more talented running backs in this year's free agent class and after only playing in six games last season, his legs should be fresh enough to lead the rushing attack for whichever team signs him this summer. If he stays in Carolina, we'll take a pass. But should Williams end up on a decent offense, expect him to produce a quality stat line.
10. Wes Welker, WR, New England Patriots: Roughly nine months after major reconstructive knee surgery, Welker was in good enough shape to start for the Patriots in Week 1 and went on to rack up 86 passes for 848 yards and seven touchdowns in 15 outings. If this guy's good enough to produce that kind of stat line coming off a major injury, we fully expect him to haul in at least 100 passes in 2011. PPR owners take note: Wes Welker is back!
Other comeback players to consider…
Ronnie Brown, RB, Free Agent: He'll be 30-years-old in December and has trouble staying healthy, but Brown could produce a respectable stat line, should he end up on the right offense.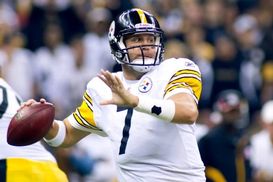 ICONRoethlisberger could be headed for a top-ten finish in 2011.
Ben Roethlisberger, QB, Pittsburgh Steelers: A four-game suspension limited Big Ben to just 12 games and a 17th place fantasy finish in 2010. With big-play deep threat Mike Wallace and the emerging Emmanuel Sanders on his offense, don't be surprised if Roethlisberger cracks the top-10 in scoring this year.
Brandon Marshall, WR, Miami Dolphins: Chad Henne at quarterback is a problem, but a 27th place fantasy finish is just way too low for a guy who caught 307 passes from 2007-2009. Expect his stats to improve this year.
Zach Miller, TE, Free Agent: He's caught 60 or more passes in each of the last two years, but racked up just 685 receiving yards last season (lowest since 2007 rookie year). Should Miller join a potent offense, he could become a top-five tight end.
Nate Kaeding, K, San Diego Chargers: He finished 14th in fantasy scoring last season due largely to a groin injury that forced the 29-year-old to miss three games. Between the Chargers' offense and the San Diego weather, don't be surprised if Kaeding makes a move for the top kicker spot this season.