March 18, 2013 -
Joe Fortenbaugh
Compensatory pick breakdown
The NFL awarded 32 compensatory draft choices to 16 NFL franchises on Monday, with the Atlanta Falcons and Baltimore Ravens leading the way four additional picks apiece.
Compensatory draft picks are given to clubs who are determined to have lost more or better compensatory free agents than it acquired during the previous year. The formula takes into account factors such as playing time, salary and postseason accolades. The formula does not cover every free agent lost or acquired.</p>
As an example, the Pittsburgh Steelers acquired one compensatory draft pick (sixth round, No. 206 overall) after losing cornerback William Gay last season. The Steelers did not acquire any players who fall under the league's formula for determining compensatory choices, so the team was given an additional sixth-round selection.
Teams who qualify for compensatory selections are eligible to receive a minimum of one and a maximum of four additional picks. These selections cannot be traded, which is the only guarantee anybody has during the NFL draft.
Below is the complete breakdown of each compensatory pick that was awarded on Monday, as well as the players who were lost and acquired during the previous year that led to these additional selections.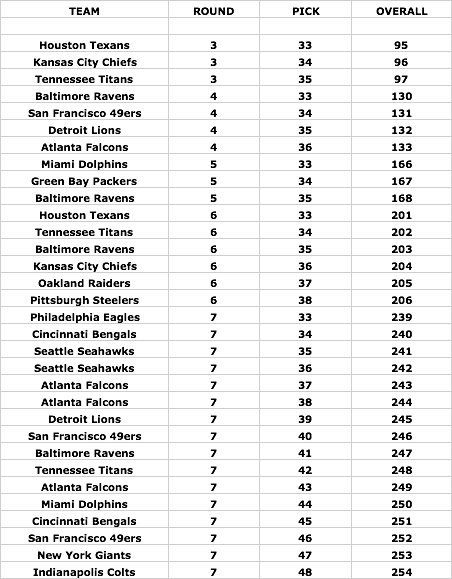 ATLANTA FALCONS
Total draft picks: 11 (4 compensatory)
Lost: Kelvin Hayden, Curtis Lofton, James Sanders, Eric Weems
Acquired: None
BALTIMORE RAVENS
Total draft picks: 12 (4 compensatory)
Lost: Ben Grubbs, Jarret Johnson, Brandon McKinney, Haruki Nakamura, Cory Redding, Tom Zbikowski
Acquired: Sean Considine, Corey Graham
CINCINNATI BENGALS
Total draft picks: 10 (2 compensatory)
Lost: Andre Caldwell, Nate Livings, Mike McGlynn, Frostee Rucker, Jerome Simpson
Acquired: Jason Allen, Jamaal Anderson, BenJarvus Green-Ellis
DETROIT LIONS
Total draft picks: 8 (2 compensatory)
Lost: Drew Stanton, Eric Wright
Acquired: None
GREEN BAY PACKERS
Total draft picks: 8 (1 compensatory)
Lost: Matt Flynn, Scott Wells
Acquired: Jeff Saturday
HOUSTON TEXANS
Total draft picks: 9 (2 compensatory)
Lost: Jason Allen, Mike Brisiel, Joel Dreessen, Mario Williams
Acquired: Bradie James, Donnie Jones
INDIANAPOLIS COLTS
Total draft picks: 6 (1 compensatory)
Lost: Jamaal Anderson, Pierre Garcon, Dan Orlovsky, Jeff Saturday, Jacob Tamme, Philip Wheeler
Acquired: Mike McGlynn, Brandon McKinney, Cory Redding, Samson Satele, Drew Stanton, Tom Zbikowski
KANSAS CITY CHIEFS
Total draft picks: 8 (2 compensatory)
Lost: Brandon Carr, Le'Ron McClain, Kyle Orton, Barry Richardson
Acquired: Peyton HIllis, Brady Quinn
MIAMI DOLPHINS
Total draft picks: 11 (2 compensatory)
Lost: Will Allen, Chad Henne, Kendall Langford
Acquired: Richard Marshall
NEW YORK GIANTS
Total draft picks: 8 (1 compensatory)
Lost: Mario Manningham, Aaron Ross, Dave Tollefson
Acquired: Martellus Bennett, Sean Locklear, Shaun Rogers
OAKLAND RAIDERS
Total draft picks: 7 (1 compensatory)
Lost: Michael Bush, Jason Campbell, Samson Satele, Trevor Scott
Acquired: Mike Brisiel, Dave Tollefson, Philip Wheeler
PHILADELPHIA EAGLES
Total draft picks: 9 (1 compensatory)
Lost: Juqua Parker, Steve Smith
Acquired: Demetress Bell
PITTSBURGH STEELERS
Total draft picks: 8 (1 compensatory)
Lost: William Gay
Acquired: None
SAN FRANCISCO 49ERS
Total draft picks: 14 (3 compensatory)
Lost: Blake Costanzo, Josh Morgan, Madieu Williams
Acquired: Mario Manningham
SEATTLE SEAHAWKS
Total draft picks: 10 (2 compensatory)
Lost: Atari Bigby, John Carlson, David Hawthorne, Charlie Whitehurst
Acquired: Matt Flynn, Jason Jones
TENNESSEE TITANS
Total draft picks: 9 (3 compensatory)
Lost: Cortland Finnegan, William Hayes, Jason Jones
Acquired: None
Hit me up on Twitter: @JoeFortenbaugh