June 07, 2012 -
Joe Fortenbaugh
Contender vs. Pretender: Chicago Bears
An upgraded receiving unit, quality depth at the running back position and a defense that still has enough gas left in the tank to pose a serious threat on Sundays has the Chicago Bears as one of a handful of teams I'm keeping a close eye on this summer.
So what better time than now to take a look at the season win totals that have been posted for the Bears as we approach the start of the 2012 campaign?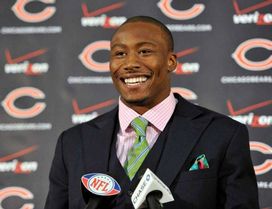 The Chicago passing attack should see a big lift from former Miami Dolphin Brandon Marshall.
I'd imagine that setting this line couldn't have been easy for Las Vegas bookmakers. The Bears possess the key ingredients required for success in the NFL: a franchise quarterback, veteran leadership and an oft-stingy defense loaded with Pro Bowl talent and game-changing ability.
But Chicago has their questions marks as well. Can the offensive line elevate its play and keep Jay Cutler healthy? Has Father Time caught up with Brian Urlacher and Lance Briggs? Will the Matt Forte contract situation carry over into the regular season and cause a distraction within the locker room?
And let's not forget about the division in which the Bears call home, which just so happens to feature the 15-win Packers and upstart Detroit Lions. Earning a playoff berth from the NFC North will be no picnic in the park.
FINDING THE BEST PLACE TO BET
Here's the breakdown on the Chicago Bears from Las Vegas and offshore:
MGM: 9.0
LVH: 9.0
BetOnline: 9.0
Sportsbook: 9.0
Cantor: 8.5
5dimes: 8.5 (Over: -180, Under: +150)
If we determine that the under is the strongest play available, we've got at least four shops that are currently offering a 9. If the over tickles our fancy, Cantor (Las Vegas) or 5dimes (offshore) have us covered with an 8.5.
EXAMING THE SCHEDULE
Here's how the Bears stack up in relation to the point spreads for Week 1 through Week 16 that were released by Cantor Gaming a few weeks ago.
Week 1: -9.5 vs. Indianapolis Colts
Week 2: +7.5 at Green Bay Packers
Week 3: -7.5 vs. St. Louis Rams
Week 4: +3 at Dallas Cowboys
Week 5: -3 at Jacksonville Jaguars
Week 6: BYE
Week 7: -2.5 vs. Detroit Lions
Week 8: -4 vs. Carolina Panthers
Week 9: -1 at Tennessee Titans
Week 10: -1 vs. Houston Texans
Week 11: +4.5 at San Francisco 49ers
Week 12: -7.5 vs. Minnesota Vikings
Week 13: -5.5 vs. Seattle Seahawks
Week 14: -2.5 at Minnesota Vikings
Week 15: +3 vs. Green Bay Packers
Week 16: -1 at Arizona Cardinals
Week 17: at Detroit Lions (no line posted)
Favorite: 11 times
Underdog: 4 times
Interesting. Cantor has the Bears' win total listed at 8.5, but the same company has the same team favored in 11 of 15 games this season. Worse case scenario, the Bears should enter the bye week at 3-2 with wins over Indy, St. Louis and Jacksonville. A home date against Detroit following the bye is a very favorable situation as are the home contests against Carolina and Seattle.
Assuming the Bears come off the bye at 3-2, the team would then need to win six more games for an over ticket to cash. A season split with Detroit gives us one and victories over Carolina, Tennessee, Seattle and Arizona would put us at eight. That means just one victory over a Minnesota Vikings team that went 3-13 last season would put us in the black.
Should the Bears find a way to beat Minnesota in both meetings this season, Chicago could then afford to drop one of those aforementioned winners (Carolina, Tennessee, Seattle or Arizona) and we would still turn a profit with a nine-win campaign.
WORD ON THE STREET
Who knows the Chicago Bears better than the guys who cover the team for a living? For some insight on the 2012 season, we turn to Chicago Tribune writers and fellow NFP scribes Dan Pompei and Brad Biggs for their thoughts on the Bears' season win total:
Pompei: "It seems to me that Vegas is being a little pessimistic on the Bears. They won eight games a year ago without having Jay Cutler for six games, and they were 7-3 when Cutler went down. Assuming Cutler is healthy, and assuming Brandon Marshall makes the passing game better than ever, the Bears look like a 10 win team to me."
Biggs: "The Bears are optimistic about their chances this season because they were 7-3 last year when quarterback Jay Cutler was lost for the season with a thumb injury. The returning defense is essentially the same but the team has added playmaker Brandon Marshall to the offense. This is a team that believes it would have reached 10 wins a year ago."
THE ROSTER
The good: The trade for Brandon Marshall and selection of South Carolina rookie Alshon Jeffery provide an immediate upgrade to the wide receiving unit, while the signing of former Raider Michael Bush gives the Bears a serious 1-2 punch at the running back position. After appearing in just two games as a rookie in 2011, former first round pick Gabe Carimi appears healthy and ready to assume a regular spot along the offensive line. 2012 first round pick Shea McClellin provides the additional pass rusher the Bears were looking for this offseason.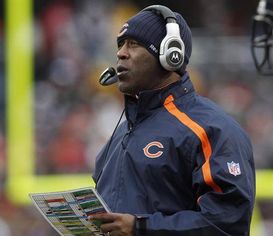 Lovie Smith's teams have always bounced back favorably after disappointing seasons.
The bad: The Bears ranked 28th against the pass last season and will need a big contribution from 2010 third-round pick Major Wright (SS), especially when you consider the fact that CB Charles Tillman turned 31-years-old in February. The offensive line surrendered 49 sacks last season (5th-most in NFL) and 56 the year before (most in NFL), so all eyes will be on this unit early.
Coaching: Now in his ninth year as the head coach in Chicago, Lovie Smith has won at least nine games in four of eight seasons. And every time the Bears boss has won eight or fewer games in a season (like he did last year), Chicago has responded by winning at least nine contests the following year.
CONCLUSION
At 8.5, I think we've finally found our first solid over bet for the upcoming season. As Dan Pompei mentioned above, this is a team that won eight contests last year despite injuries to both their star quarterback and running back. An upgraded receiving unit and a favorable schedule have me looking past the heavy juice on the 8.5 and willing to back the Chicago over in 2012.
Hit me up on Twitter: @JoeFortenbaugh