May 29, 2012 -
Joe Fortenbaugh
Contender vs. Pretender: Kansas City Chiefs
LAS VEGAS—Are the Kansas City Chiefs capable of winning at least eight games in 2012?
That's the question you need to ask yourself if you're interested in betting the over on the Chiefs' win total for the upcoming season. After Cantor Gaming released their season win totals for all 32 NFL teams last Wednesday, several other Las Vegas sportsbooks and offshore shops followed suit to provide us with a wide range of betting options.
We've already taken a look at some of the plays we think offer some early value, but after reading your feedback, it appears many of you think an opportunity exists in Kansas City. So why not put together a more thorough evaluation?
FINDING THE BEST PLACE TO BET
The first thing we need to do is shop for the best price, something that our friends at BeyondTheBets.com have already done for us. Here's a look at how the Chiefs stack up across the board:
MGM: 7.5 (Over: -120, Under: even)
LVH: 8.0
Cantor: 8.0
5Dimes: 8.0
BetOnline: 8.0
Sporstbook: 8.0
Since the MGM has a lower opinion of the Chiefs than any of the other five sportsbooks listed, we'll have to make our play there if we decide the over does, in fact, offer us a chance to cash a winning ticket.
EXAMINING THE SCHEDULE
A few weeks back, the team at Cantor released point spreads for every game played from Week 1 to Week 16. Here's a look at their early opinions on Kansas City:
Week 1: (pick) vs. Atlanta
Week 2: (+2.5) at Buffalo
Week 3: (+7) at New Orleans
Week 4: (+1) vs. San Diego
Week 5: (+3) vs. Baltimore
Week 6: (pick) at Tampa Bay
Week 7: BYE
Week 8: (-4) vs. Oakland
Week 9: (+5.5) at San Diego
Week 10: (+7) at Pittsburgh
Week 11: (-2.5) vs. Cincinnati
Week 12: (-1) vs. Denver
Week 13: (-3) vs. Carolina
Week 14: (-1.5) at Cleveland
Week 15: (+2.5) at Oakland
Week 16: (-6) vs. Indianapolis
Week 17: at Denver (no line posted)
Favorite: 6 times
Underdog: 7 times
Pick: 2 times
Just like Union Rags in the Kentucky Derby, the Chiefs could have a tough trip around the track this year.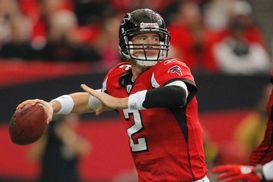 ICONThe Chiefs will be tested early with a Week 1 home date against the Falcons.
It's conceivable that Kansas City could get off to an 0-5 start with daunting showdowns against 2012 playoff teams Atlanta, New Orleans and Baltimore. A Week 2 road date at Buffalo will be no walk in the park and you have to keep in mind that the Chiefs are just 3-7 against the Chargers over the last five years (2-3 at home).
The backend of the schedule features some more favorable matchups, but three of Kansas City's final four games take place on the road, where the Chiefs have gone 10-14 over the last three years.
But that doesn't mean that and eight-win campaign is out of reach. Wins over Indianapolis, Cleveland, Tampa Bay, Carolina and Buffalo along with divisional splits against Oakland, San Diego and Denver would give the team exactly eight victories.
THE ROSTER
The good: Quarterback Matt Cassel and running back Jamaal Charles are coming back healthy, while the signing of Peyton Hillis offers up depth and power to the backfield. Veteran Eric Winston brings some experience and should serve as an upgrade to the offensive line while first round draft pick Dontari Poe will help to shore up the Chiefs run defense. The healthy return of strong safety Eric Berry will be huge.
The bad: Cornerback Brandon Carr signed with Dallas and has been replaced with former Oakland Raider Stanford Routt. But the real question is whether or not quarterback Matt Cassel's return to the lineup will translate into points for the offense. In three years with the Chiefs, Cassel has gone just 18-21 as the starter with a QB rating of 80.0. He'll need to live up to the lofty payments the Chiefs have been sending his way if this team is going to post at least eight wins this season.
Coaching: Romeo Crennel went 24-40 with just one winning season in his only four years as an NFL head coach (Cleveland, 2005-2008). But after taking over a sinking ship in Kansas City last season as the team's interim boss, Crennel guided the Chiefs to a 2-1 record with wins over Green Bay and at Denver. The team appeared to respond favorably to his promotion.
CONCLUSION
That opening five-game stretch is just too intimidating for me to take a shot on the Kansas City over this season. But that doesn't mean this team can't get the job done for their backers. A 3-2 start (wins over Atlanta, Buffalo and San Diego) would set things up nicely, especially when you take a look at the four-game stretch at the end of the year that features matchups against Carolina, Cleveland, Oakland and Indianapolis.
As always, I'm interested to see what you think in the comments section below.
Hit me up on Twitter: @JoeFortenbaugh