July 30, 2011 -
Barry Dorey
Cornerback run continues as Ravens make a deal
The demand for veteran cornerbacks takes us to Baltimore Saturday afternoon as the Ravens re-signed free agent Chris Carr to a four-year deal, per Adam Schefter of ESPN.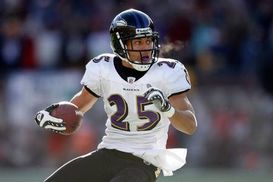 Chris Carr is back with the Ravens.
The move gives the Ravens some depth at the position as well as another starter to play opposite rookie first-rounder Jimmy Smith. 2010 was the first time in Carr's six-year career that he started all 16 games, as the 28-year-old recorded career-highs in tackles (61) and interceptions (2).
Prior to joining the Ravens in 2009, Carr spent three seasons in Oakland (2005-2007) and one in Tennessee (2008).
This is where it starts to get interesting, as the New York Jets had reportedly expressed a mild interest in Carr, per Rich Cimini, but obviously didn't close the deal.
Somewhere, Antonio Cromartie is continuing to build leverage.
Hit me up on Twitter: @JoeFortenbaugh