August 18, 2011 -
Barry Dorey
Could Blaine Gabbert start in Week 1?
David Garrard has a problem on his hands.
And more cowbell probably isn't the answer.
Expected to open the season as the Jaguars starting quarterback, the nine-year veteran currently finds himself in a very real quarterback competition with rookie Blaine Gabbert, per Tania Ganguli of the Florida Times-Union.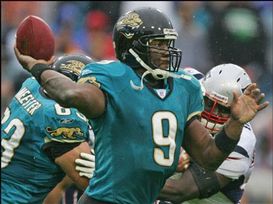 How long will David Garrard be able to fight off Blaine Gabbert?
Ganguli writes, "It's become apparent from talking to people in the building and by watching Gabbert throughout camp that he has the ability to be an NFL quarterback -- and soon."
The Jaguars traded up six picks in the first round of last April's draft to select the former Missouri standout. In his first preseason action, Gabbert completed nine of 16 passes for 85 yards in a 47-12 loss to the New England Patriots.
Garrard is expected to start Friday's preseason game against the Atlanta Falcons.
While it was originally believed that Garrard would open the year under center for the Jags, a preseason back injury knocked him out of action, opening the door for the rookie to take some valuable first-team snaps.
"If Blaine is capable of coming in and getting past Dave in Year One, it looks to me like the Jaguars win," offensive coordinator Dirk Koetter told Jaguars.com via Jacksonville.com back in July. "We're all winners."
Well, maybe everyone except for Garrard.
Hit me up on Twitter: @JoeFortenbaugh