March 13, 2012 -
Joe Fortenbaugh
Could the Bills lose out on Mario Williams?
The Buffalo Bills may need to step up their game if they want to land the services of free agent defensive end Mario Williams.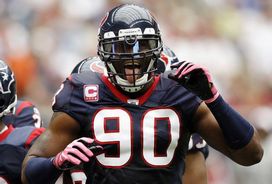 The Bills have been aggressive in their pursuit of Mario Williams, but will they close the deal?
Because if the 27-year-old gets on a plane without signing his name on the dotted line of a Buffalo contract, the Bills may find themselves S.O.L.
According to a tweet from the NFL Network's Jason La Canfora, Williams isn't expected to sign a contract with the Bills on Tuesday night. However, the two-time Pro Bowler apparently has another visit scheduled (rumor is it's with Jacksonville) and could end up leaving town to see if a better option is available.
And that's where things could get dicey for the Bills.
From Williams' perspective, it's a smart play. Why sign with a team that is clearly ready to break the bank for your services when you can drive up the price by testing the market? As the top defensive player available in this year's free agent class, Williams doesn't need to rush to sign a contract.
It's simply a case of supply vs. demand at its finest.
And a guy with Williams' talent is clearly in high demand.
Hit me up on Twitter: @JoeFortenbaugh