March 11, 2014 -
Joe Fortenbaugh
Cowboys continue to shake things up
The purge continues in Dallas, as just a few hours after Pro Bowl defensive end DeMarcus Ware was released, word surfaced that the Cowboys plan on dumping wide receiver Miles Austin.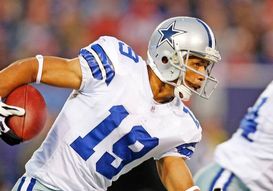 Austin's eight-year run in Dallas has reportedly come to an end.
It was five seasons ago that Austin burst onto the national scene, catching 81 passes for 1,320 yards and 11 touchdowns in 16 games. But the 29-year-old's production has been in steady decline since that breakout 2009 campaign, culminating in a 24-244-0 stat line in 11 games with the Cowboys last season.
Austin will be released with a post-June 1 designation, meaning the $5.5 million the Cowboys will save on the salary cap will not take effect until that time. In comparison, Ware's release created $16 million of cap space for Dallas.
On the bright side for Cowboys fans is the fact that the team is apparently very interested in free agent defensive tackle Henry Melton, according to multiple reports. The four-year veteran emerged as one of the league's best up-and-coming interior defensive linemen in 2012 before a torn ACL ended his 2013 campaign after just three games.
Hit me up on Twitter: @JoeFortenbaugh