July 26, 2011 -
Barry Dorey
Cowboys set to unload Marion Barber
He's spent the last six years in Dallas, but after a career-low 113 rushing attempts in 2010, the writing was on the wall.
Marion Barber's time with the Cowboys has come to an end.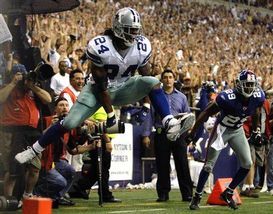 How long will Barber last on the open market?
Per a tweet from ESPN's Adam Schefter, the Dallas Cowboys will release Barber in the very near future.
The 28-year-old has battled a variety of injuries the past few seasons and has watched his rushing attempts decrease in each of the past two years. After the Cowboys spent a third-round pick on Oklahoma running back DeMarco Murray this past April, many sensed that Barber's tenure in Big D had come to an end.
This raises an interesting question: Is three-year veteran Felix Jones ready to lead the backfield charge for the Cowboys? Despite impressive speed and reliable hands, the former Arkansas Razorback has made only eight starts over the past three years.
If Jones fails to get the job done, Tashard Choice and DeMarco Murray will no doubt hear their names called early in the season.
Can Felix Jones handle the workload in Big D? Discuss it now in the NFP Forums!
Hit me up on Twitter: @JoeFortenbaugh