November 28, 2011 -
Joe Fortenbaugh
Current Super Bowl odds from BetOnline.com
The Denver Broncos' four-game winning streak has caught the attention of many, including oddsmakers in Las Vegas and around the globe.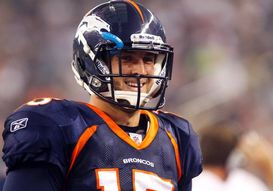 Say what you want, but Tebow has the Broncos headed in the right direction.
Two weeks ago, Tim Tebow and the Broncos were 4-5 and listed at 200-1 to win the Super Bowl. But two come-from-behind victories later and Denver now sits at 6-5 and 40-1 to win the Super Bowl, per Dave Mason and our friends at BetOnline.com.
Other moves of note include the Chicago Bears dropping from 20-1 to 30-1 after Sunday's loss at Oakland, the Atlanta Falcons moving from 25-1 to 20-1 after their fifth win in the team's last six games and the New York Giants sliding from 18.5-1 to 25-1 after dropping two straight contests entering a Monday night showdown with the New Orleans Saints.
At this point, I can't take my eyes off of Denver. I know it may not look pretty, but this team finds ways to win and is playing outstanding defense right now. 40-1 is certainly appealing.
Here's the rundown:
Hit me up on Twitter: @JoeFortenbaugh