March 25, 2012 -
Joe Fortenbaugh
Curtis Lofton lands in New Orleans
With current starting middle linebacker Jonathan Vilma expected to feel the league's wrath for his prominent role in the Saints' bounty program that was recently brought to light, the organization went out and found itself a versatile Plan B.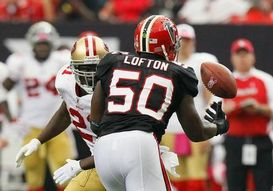 Lofton ranked fifth in the NFL with 147 tackles last season.
Adam Schefter of ESPN reported Saturday night that the Saints have reached an agreement on a five-year deal with free agent linebacker Curtis Lofton.
A four-year veteran out of Oklahoma, Lofton started 63 of a possible 64 regular season games with the Atlanta Falcons during the first four seasons of his career. The 25-year-old is coming off a career-high 147-tackle campaign in 2011 that also included one sack, two interceptions and one forced fumble.
Saints general manager Mickey Loomis said in a statement released by the team on Saturday night that, "[Lofton] has the ability to play all three linebacker positions and we feel that he's just entering the prime of his career. We think he can come to New Orleans and fit in well and provide us with a significant contribution to our defense."
So it appears as if the Saints plan on having both Lofton and Vilma on the field at the same time once the latter serves his still-unknown suspension. Former St. Louis Ram Chris Chamberlain is currently slotted in as the team's Sam backer while Scott Shanle is listed as the starting Will backer on the depth chart.
Hit me up on Twitter: @JoeFortenbaugh