August 01, 2011 -
Barry Dorey
Deal done: Bradshaw back with the Giants
After a week on the open market, Ahmad Bradshaw has decided there's no place like home.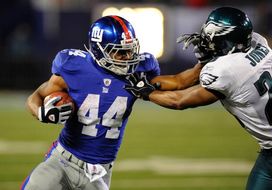 ICONHe's back! Bradshaw is returning to New York for a fifth season.
Mike Garafolo of the Newark Star-Ledger is reporting that the free agent running back has agreed to a four-year deal with the New York Giants. The financial details of the contract weren't immediately made available.
The agreement caps a week of various ploys made by both sides in an effort to gain leverage for a deal that many in the industry expected to happen. Bradshaw used interest from the Dolphins and Redskins to gain a better offer, while the Giants brought in free agent Jason Snelling for a talk to keep Bradshaw's price in check.
The four-year veteran from Marshall is coming off a career season in which he recorded 1,549 total yards and eight touchdowns despite splitting time with Brandon Jacobs.
Now under contract, we expect Bradshaw to see an even bigger role in New York this season.
Hit me up on Twitter: @JoeFortenbaugh