February 21, 2013 -
Joe Fortenbaugh
Decisions, decisions
His skills are in noticeable decline while his age has shifted from asset to liability. His 2013 salary cap number is almost $4 million more then the second-highest paid player on his team. The postseason accolades are no more, having since been replaced by questions regarding his future. Those questions used to focus on whether or not he was the best in the business. Now, they ask if he can still make it in this business.
At 31-years-old and coming off the worst season of his ten-year career, is cornerback Nnamdi Asomugha on his way out of Philadelphia?
With the quarterback situation, shall we say, less volatile at the current moment, the Philadelphia Eagles turn their attention to the upcoming free agency and draft periods. And now that decisions have been made as to the futures of both Andy Reid and Michael Vick, Philadelphia can move past the two biggest questions the organization was facing entering the offseason.
Next up: The cornerback position.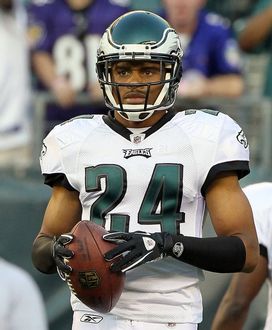 Asomugha gave up more targets, receptions and receiving yards in 2012 than in any of his previous four seasons.
Flashback to two years ago when it would have been absurd to think the Eagles would enter the 2013 offseason with big question marks surrounding the cornerback position. The team had just acquired 2009 Pro Bowler Dominique Rodgers-Cromartie in a trade with the Arizona Cardinals before signing one of the game's elite cover covers in Asomugha to the tune of a five-year, $60 million contract. The future of the position looked extraordinarily bright. Some considered Philadelphia's cornerback tandem to be the best in the business.
But 20 losses marked, in part, by shoddy defensive efforts later and things have changed dramatically in the City of Brotherly Love. Rodgers-Cromartie is scheduled to become a free agent when the market opens on March 13 and from the looks of things, the Eagles have no intentions of committing big-time cash to a player who failed to meet expectations during his two-year run with the organization.
So that leaves Asomugha and the question of whether or not he'll be back in green come next season.
Scheduled to make $15 million in base salary in 2013, the Eagles have three options regarding how to proceed with Asomugha. They can do nothing, which is both highly unlikely and extremely expensive, they can ask him to take a pay cut or they can release him, which would cost the franchise $4 million.
Eliminate the first option and ask yourself this: How much is Nnamdi Asomugha worth at this point in his career?
While a member of the Oakland Raiders, Asomugha was named to the Pro Bowl in each of the three years preceding his tenure with the Eagles (2008, 2009, 2010). Let's take a look at his numbers during those three seasons and compare them to what the soon-to-be 32-year-old produced during his two years with Philadelphia (stats courtesy of Pro Football Focus):
SPT: Snaps per target
SPR: Snaps per reception

You'll notice right off the bat that this is a player in decline. Pay particular attention to the Snaps Per Target and Snaps Per Reception categories, which clearly demonstrate that opposing quarterbacks are far less fearful of throwing Asomugha's way now than they were in the past. They're also far more successful.
It doesn't come as a surprise to witness a player's production decline as he ages, but for a point of reference, let's take a look at Broncos cornerback Champ Bailey, who is three years older and has an average yearly salary of $4.25 million less than Asomugha. In 2013, Bailey averaged 7.90 snaps per target and 14.62 snaps per reception, both of which rank better than his younger and more highly paid Philadelphia counterpart.
Bailey is headed for the Hall of Fame, so perhaps it's unfair to judge Asomugha's statistics against his own. Then again, if you want to get paid like the best cornerback in the league, you better produce like the best cornerback in the league. Champ has been doing it for years. Asomugha hasn't done it for two seasons.
So does Philadelphia blow it all up and start from scratch at the cornerback position, or do they bring Asomugha back at a cheaper price, assuming he is willing to acquiesce?
Remember, this is a team with a new head coach, new philosophy, question marks at the quarterback position and a plethora of available cap space. Assuming it takes just two years to get ready to make a run at the Super Bowl, Asomugha will already be 34-years-old.
If the Eagles don't think he can contribute to a championship push at that point in time, they would be better served cutting ties now and looking towards the future.
Hit me up on Twitter: @JoeFortenbaugh