January 28, 2013 -
Joe Fortenbaugh
Defense still pays the bills in the NFL
The NFL is a business that places the value of scoring in the same stratosphere as it does multi-billion dollar television contracts. After all, those contracts aid in funding the lucrative paydays bestowed upon the league's elite quarterbacks who, in turn, play an integral role in generating all of those precious points. It's why the 38-35 double overtime shootout between the Baltimore Ravens and Denver Broncos in this year's playoffs was instantly deemed a classic, while the 9-6 regular season slugfest between the Alabama Crimson Tide and LSU Tigers back in 2011 was met with vitriol in the twittersphere.
How could Alabama and LSU be considered the two best teams in the nation if they couldn't score, people tweeted. Never mind the fact that both offenses ranked in the top-15 nationally in scoring entering that primetime showdown.
Forget about defense. We are a culture captivated by two-minute scoring drives and big-play wide receivers. It's why we bet overs instead of unders when wagering on NFL totals. We want to see points on the board and as a result, we wholeheartedly believe the current mantra proclaiming the NFL to be a "quarterback-driven league." Between Colin Kaepernick, Russell Wilson, Robert Griffin III and Cam Newton, we are told that a new era of NFL offense is upon us.
But as NFL offenses become more and more prolific, the need for stalwart defensive play becomes increasingly imperative. As we see in the Big 12 conference every season, it's foolish to think that you can earn a victory simply by building a more high-powered offense than your opponent. You need to generate stops and you need to force turnovers.
Now more than ever before, defense matters.
Think back to the last five Super Bowl winners: New York Giants, Green Bay Packers, New Orleans Saints, Pittsburgh Steelers, New York Giants. What pops into your mind first? I'm betting that for most of you, it's the names Manning, Rodgers, Brees and Roethlisberger.
But did you know that en route to hoisting the Vince Lombardi Trophy, those four quarterbacks combined to average just 25.4 points per game over those five Super Bowl wins?
This isn't to say that those quarterbacks and those offenses didn't play an integral role in their team's march to glory. Far from it. Stellar quarterback play is a necessity when it comes to winning the Big One. But the point here is that offenses rarely do it alone. The best of the best can play defense. The elite teams in the NFL have balance.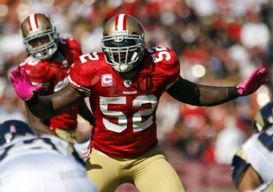 Patrick Willis and the San Francisco 49ers ranked third in the NFL in total defense this season.
The 2007 New York Giants ranked seventh in the league in total defense en route to winning the Super Bowl. Pittsburgh ranked first in 2008, while Green Bay ranked fifth in 2010. In 2009, the Saints ranked second in takeaways (39) on the way to their first championship in franchise history. And who can forget about last year's Giants team, who held Matt Ryan, Aaron Rodgers, Alex Smith and Tom Brady to an average of just 14.0 points per game during their second Super Bowl run in five years?
Scoring around the league was at an all-time high in 2012, as the 32 NFL teams combined to average 22.75 points per game. To put that in perspective, the last time Ray Lewis played in the Super Bowl, league-wide scoring averages were at 20.02 points per game. Take the 11,651 points that were scored this season and subtract the 10,254 points that were scored the last time Lewis made it to the Super Bowl and you get an additional 199 touchdowns worth of points scored in 2012.
Yes, the quality of NFL offenses has improved. Which means possession of an elite NFL defense means more now than ever before.
Of the five teams that led the NFL in scoring this season (New England, Denver, New Orleans, Washington, Green Bay), four qualified for the postseason and went on to post a combined playoff mark of 2-4. None of those teams will be playing in the Super Bowl.
Of the five teams that led the NFL in scoring defense this season (Seattle, San Francisco, Chicago, Denver, Atlanta), four qualified for the postseason and went on to post a combined playoff mark of 4-3. One of those teams will be playing in the Super Bowl.
As for the Ravens, sure, their defensive numbers were down a bit in 2012. But quarterback Joe Flacco wasn't anything to write home about either…until it came time for the postseason.
Flacco went from a QB rating of 87.7 during the regular season to 114.7 during the playoffs. Baltimore's defense went from surrendering 21.5 points per game during the regular season to just 14.3 points per game in the playoffs (we aren't counting the two special teams touchdowns Denver scored, because they didn't come against the Ravens defense), against the likes of the up-and-coming Andrew Luck and future Hall of Famers Peyton Manning and Tom Brady.
That's balance. And that's how you win in today's NFL.
Colin Kaepernick may be the next big thing at the quarterback position, but let's not lose sight of the fact that he's got the league's third-ranked defense backing him up. Joe Flacco may never be considered to be an elite quarterback, but his quality postseason play combined with a suddenly resurgent Baltimore defense has him playing in New Orleans this Sunday instead of star quarterbacks like Manning and Brady.
And for those who may be riding high on the stellar championship game performances from Kaepernick and Flacco, don't forget that the San Francisco and Baltimore defenses combined to surrender exactly zero points during the second half of both games.
We pay to watch offense. But a good defense is what it costs to win the Super Bowl.
Hit me up on Twitter: @JoeFortenbaugh